Sponsorship program for Michael Seewald's worldwide trips to places such as: carmel art gallerys, future trips, photo workshops, photographic workshops, photo classes, photography classes Michael Seewald, photographia, arte, Del Mar Plaza, photographic art, limited editon art, photos, photographs, fine art photo, seawald, Del Mar, Ansel Adams, Edward Weston, Sewald, arte, photographia gallerie, foto gallerie, Art Calendars, photographic art
calendars, limited editon art, photos, photographs, fine art photo sponsoring sponsoring

Trips for Sponsoring
Collector Testimonials
Pricing History
Client List
Collectors Corner
Opening Night Celebrations
Sponsors 'Gallerys'
Are Seewalds worth the money?
Naomi and Winona Judd Visit
All about Seewald's unique sponsorship program.

If you already know about Seewald's
sponsorship program click here to see what's currently available.

If not, please read the following first.

Why have

hundreds

of collectors,
photographers included,


purchased

Seewald's work
sight unseen?

Because of these many reasons:
By investing in a Seewald in advance, you save approximately 50% over 'opening night prices'! This alone is the only reason most collectors need, but read on...

You are involved, both directly and indirectly, with the actual creation of Michael's art. You not only help finance Michael's trip, but you, along with the few other sponsors, choose which photographs will actually represent that trip. You get your choice from his best images. Sponsors, basically in order of signing up, come in one at a time (or we mail the choices) and choose the one for their home or office. Once chosen, it's removed from the selection, and the next sponsors choose their favorite, and so on. These are then shown in exhibitions that travel the world over!

Another Seewald testimonial:

Dear sponsor, why

did you start collecting

Seewald's art?



"The subject images. I enjoy scenes that are dramatic in concept and still bring a sense of peace and tranquility to me as the viewer. Michael's images certainly fulfill my artistic needs in this regard."



Lee Gaffrey, multi- sponsor, Encinitas, California

You will receive recognition for sponsoring, as your name will appear on each and every photograph in the edition, as part of the title, not just the one you get, which would be number 1 of the limited edition set. Your name will also appear in any books, posters, magazines, reproductions, etc. that "your photograph" is used in!

(Most sponsors have sponsored two or more times! One gentleman, Dr. Charles Cantor of Del Mar, CA, has sponsored over 40 images, and Dr Roger and Leiann Fox of Murrieta, CA, have sponsored a dozen !!!)

One will also be reserved, with your name on it, for a museum. To be either donated or sold to them where it could be displayed, on and off, for centuries to come.


Linda Wade with her newly released
sponsored Provence photograph.



As the editions sell out, the value of your "personal original" increases accordingly. Your photograph, as well as the others in the edition, increase in value each time the gallery sells one. Depending on the size of the image, from $200 increases on 16"x20", up to $5,000 on the 40"x50"!
This is due to the editions being so limited.

(All sizes combined totaling only 284 in Seewald's latest edition limit; un-heard of for someone of Seewald's stature and ability... see Seewald's museum award winning image collection and/or read the Photographers Forum magazine article on him.)

Seewald offers only a few sponsorships per trip. He guarantees satisfaction. (But doesn't guarantee it'll be easy to choose just one favorite...Many can't get it down to only one favorite and end up purchasing their second favorite, some even more.)!

You will own a "Seewald" that you will appreciate for the rest of your life, and that appreciates for the rest of your life!

Sponsorship prices increase every few years,
get yours now before it does so again!

Now - a question for you. When do think would be a good time to start investing in your Seewald? ... That's right, right now. His prices never decrease, but they do increase regularly.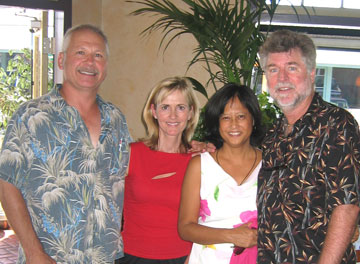 New collectors/sponsors John and Mary D'Acierno of Laguna Niguel
join Valerie and Michael Seewald in a 'get to know each other' luncheon
at the Meritage Restaurant in downtown Encinitas.
They had just signed up to sponsor the Umbria series after picking up
a framed reproduction for a relative.



Click to enlarge.
A Seewald Certificate of Authenticity
Comes with every piece of art.
Click to see trips
available for sponsoring.
Testimonial

Question of sponsor: Any fears on collecting Seewald's art?
"None! I was committed to enjoying photographic art when I was exposed to several of Michael's images. While it certainly is a positive factor, I did not become an owner of Michael's art with investment as a goal. I know that Michael's images have increased in value over the years."

Five time sponsor.
Lee Gaffrey, Encinitas, California.
Art size
unframed

Framed size,
approx.

Sponsor
price

Release
Price

You
Save

16"x20"

24"x 30"

$1,500

$3,000

$1,500

24"x30"

34"x 40"

$2,700

$5,000

$2,300

30"x40"

40"x 50"

$4,800

$10,000

$5,200

40"x50"

50"x 60"

$9,000

$20,000

$11,000

Easy Payment Plan
Only 1/3rd down to reserve.
2nd third due one month prior to trip. Final third when picking your image, approx. one year after Michael's trip.

Conversion for
standard sizes.
16x20" (40x51cm)
24x30" (61x76cm)
30x40" (76x101cm)
40x50" (101x127cm)

Easy payments plans:
Only one-third down
to reserve you sponsored photo. Next third due a month prior to Michael trip departure. Final balance due approx. one year later, when picking image of choice from series).

Why wait for another price increase to get in? You only live once, life is too short to own bad art, (add you own good reason to separate yourself from your wallet here) etc., etc., etc..

Contact for exact details, guarantees, etc., you'll be glad you did!

First come, first serve for new sponsors.
Read testimonials from sponsors.
Read the benefits of sponsoring.

TO RESERVE OR ASK QUESTIONS
call now and if he is not in leave a message,
Michael will return your call immediately.
1.760.633.1351
Click here to view trips
available for sponsoring.
Trips for Sponsoring
Collector Testimonials
Pricing History
Client List
Collectors Corner
Opening Night Celebrations
Sponsors 'Gallerys'
Are Seewalds worth the money?
Naomi and Winona Judd Visit
reset on 11.15.'04
6.23.'08 3643
reset 10.'08
527 12.3.09
3062 on 6.23.2016
Sponsorship program for Michael Seewald's worldwide trips