12.18.'03 Sponsorship testimonial from collector
Stan Webb of Wichita, Kansas.

"Trying to choose just one image from one of Michaelís trips can be quite challenging. On his last Venice trip, I spent literally hours upon hours excruciating over my options. I have a relatively trained eye for photography and what I like, but when you have spent hours looking and eliminating and still have 6-or 7 left that all would be excellent choices, it can get wonderfully painful. First you get to see dozens of Masterfully composed shots of some of the most beautiful places in the world knowing that soon one of them will be yours, and secondly, since they are all so beautiful, you want to buy them all.

Looking at wonderful photographs that Michael has taken, makes you feel like you are one with the artist, as they make you feel like you are there with him when he took it. If you appreciate quality art, I would challenge anyone to look at his art and see if they can only have one favorite shot.

Photographers, for years, have not been fully appreciated as true artists until NOW. Michael Seewald has helped take photography to a new level by making great museum quality art from beautiful places around the world and making it available and affordable to everyday art lovers. "

Stan Webb,
Wichita, Kansas
Multi-collector/sponsor


Click to enlarge.

Stan Webb with one of his sponsored images, which also made it into the Seewald 2004 Venice Art calendar, and ON IT'S COVER. And as the sponsor, Stan's name appeared in the title, since he was the sponsor, an added bonus effect of sponsorship, you name accompanies the title in all books, magazines, art cards and reproductions, name titles on museum exhibitions, etc..

___________________________________________________

Restaurant owner of Mariah's in Carlsbad poses with sponsor Kurt Annweiler, Valerie Seewald and Kurt's wife, Betty. Their newly framed Michael Seewald image is from the "Monterey County" series created in Point Lobos, Carmel.

_____________________


"You wouldn't normally think about deriving pleasure from a wall. But, that is exactly the sensation I receive. That is to say, so many of the walls in my home contain visions of the world as seen through the eyes of Michael Seewald.

There are two distinct feelings I receive as I move about my home. One comes from those pictures of Michael's which remind me of my own travels. The other comes from those pictures, and there are many, which send me off to places I have yet to discover."

David J. Grell
El Cajon, California, USA
Eight time sponsor
Sept.. 1998 E-mail/ phone number available on request.


"Pagoda, Hangzhou, China"
Sponsored by Dave Grell.

Click to enlarge.

_____________________


8.23.'03
Joan Nicholas with her new 11"x14" original
entitled 'Ghost Shoppers' from the Tuscany series.

_____________________

The following letter, printed in it's entirety, was received Jan. 22nd, 2001 from Julie Schloot, a sponsor from Brentwood, Tennessee. We asked her to 'pen her thoughts' as she had just chosen her image from the Tuscany series created in October and November of 1999. She was the seventh of twelve to pick.


"I first discovered Michael's work several years ago when I was visiting the San Diego area. I was doing some window shopping in Del Mar and came across the gallery. Michael happened to be in the gallery that evening so I was able to talk to him and find out about his work. The idea of sponsoring one of his trips was very appealing but a little daunting financially at the time. I did go ahead and get a calendar and have gotten one every year since. I also ordered one of Michael's larger posters (Venice, 1994) and had it framed. It looked so wonderful on the wall and I realized that it was time to go ahead and take the plunge and sponsor one of Michael's trips. I chose Tuscany.

Once I made up my mind, I was ready to get that picture! The wait was hard, at first, but I realized how the process works and why it takes as long as it does [a year usually between his going and the sponsor getting to chose one- he being a perfectionist and wanting only top notch images to be released]. I had sort of put it out of my mind but then one day Michael called and said the proofs were on their way to my house! "



"Still Life, San't Angelo in Colle, Tuscany, Italy"
Sponsored by Julie Schloot.

Click to enlarge.




Somewhere in the back of my mind, I had envisioned the sort of picture I wanted from the Tuscany area. I knew what would look good in my house and I also knew the type of shots Michael took. The proofs came in two packages. One was the group I was to choose from, the other was the ones that had already been selected (only to be looked at once I had made my choice). Opening the package was like opening a Christmas present. I was actually nervous! I looked through all the proofs carefully (from different angles, in different light, etc.) and liked so many of them.

Some were what I consider "classic Seewald" while others were a little more what you would expect from the Tuscany region. There was one shot I kept coming back to (I called it "Still Life" - Michael has another name for it, I think). I really loved the picture but it wasn't really what I had envisioned for the picture I would chose to put on my wall - at least not where I wanted it to go in my house. I fretted about this for several days. I finally decided that I had come close enough that I could open the package of the proofs that had already been selected and there they were! Just the type of shots I had in mind. I felt a great disappointment because they had already been selected and I thought I couldn't have one of those unless I bought it separately (cha-ching!).


I finally talked to Michael and told him of my dilemma. He told me about the option I had of sponsoring one shot but swapping it for another! Problem solved - so I thought! I then had to decide among three favorites, which one I wanted (NOTE FROM THE SEEWALD'S- her name to go on one as the sponsor of that particular image). Actually, it didn't take too long. I chose the "still life" to sponsor and a beautiful shot of a multi-colored town next to a river (for the home) for myself (see image above). As you can imagine, after going through all of that, I was ready to get my picture. But, of course, I have to wait for the whole process to be finished. I just kept telling myself - "good things come to those who wait". "

Julie Schloot, LabCorp
E-mail/ phone number available on request.


Click photo to enlarge
Canevara Town, Tuscany, Italy, sponsored by Michael Orlando

NOTE FROM THE SEEWALD'S- Funny, the one Julie chose, Still Life, is one of the most commented on photos in our gallery, to this day, although she actually owns Michael Orlando's image, above.

_____________________
The following questionnaire was received from Lee Gaffrey, a five time sponsor of Encinitas, California. We wrote to him,

"Lee, please fill out the following questionnaire...
...Please be honest, and also realize that we will include your name and city when we publish it on our website"

(Any fears/concerns about collecting photographic art, or Seewald's art?)

"None! I was committed to enjoying photographic art when I was exposed to several of Michael's images. While it certainly is a positive factor, I did not become an owner of Michael's art with investment as a goal. I know that Michael's images have increased in value over the years."

(What moved you about Seewald's art?)

"The subject images. I enjoy scenes that are dramatic in concept and still bring a sense of peace and tranquility to me as the viewer. Michael's images certainly fulfill my artistic needs in this regard."

(Are you still as happy with your collection as when you first hung it?)

"Frankly, I derive more appreciation as time goes by because I seem to find new things in each of Michael's images that I hadn't connected with before. I am very happy with each piece of art."

(Any comments from visitors to your home?)

"All five of the images I have hanging in my home draw compliments and inquiries about the artist. Many visitors had not considered collecting photographic art until they digest some of Michael's work. Then they usually make positive comments about considering this form of art. I, of course, refer them to Seewald's studio."

(Why Seewald's art?) "Aside from the positive investment potential, I believe Michael's creative instincts and the worldwide locations for his work bring to the camera lens images that are difficult to duplicate in other photographic art."

(What's it like having to choose an image from a sponsored series?)

"Picking a sponsored image was very difficult for me, because all of the images from a particular shooting trip are so excellent. However, since I love and enjoy the sea or any other body of water for that matter, if the image embodied a water scene I quickly selected this image."

(What personal service stood out, if any?)

"The very friendly, almost family atmosphere at work in Seewald's studios. I have come to think of Michael and Valerie as good personal friends."

(Would you consider sponsoring another image?)

"I need to build in more wall space to provide for any more images. All kidding aside, yes, I would consider sponsoring more of Michael's work."

"Michael and Valerie have always provided friendly, personal service in all of my dealings with them. It has been a pleasure to be associated with them over these many years."

Lee Gaffrey
Encinitas, California
Five time sponsor
August '99
E-mail/ phone number available on request.






(Click to enlarge)
Country western singers Winona and Naomi Judd of Nashville, TN., regulars to our gallery, stand next to Valerie. Willie Weeks, their bass player, had just signed up to sponsor 'So. Europe' earlier that day.

"...Naomi had purchased the one between them, Tallinn, Estonia, '91, the previous year for her pastor, so I asked her how he liked it? "Well", she replied, "I kinda kept it!'"
MS

___________________________________________________




"A number of years ago we happened on a photo art gallery in Del Mar, California. It was a moment to remember!! Both of us love natural scenery and quality art. What we saw with Seewald was another Ansel Adams at work. We signed on immediately and have since purchased four of Michael Seewald's finest art pieces, including his highly prized 'Canal Reflections, Venice, Italy', which took the grand prize at the '96 Southern California Exposition and Fair.
In our opinion there is not a better photo-artist than Michael Seewald and we are pleased to so state."

Bob and Trudy Shaw
La Mesa, California, USA



Six time sponsors
Oct. 1998

E-mail/ phone number available on request.

Click to enlarge.

___________________________________________________
The following questionnaire answers were received in August, 1999 from:

Jay and Heidi Short,
six time sponsors,
Rancho Santa Fe, California

(Did you consider photography to be an art before seeing Michael's work?)



"Yes, we were already collecting fine photographic art."

(What did you like about Seewald's art when you first saw it?)

"Sense of motion and emotion in the photographs."

(What fears/concerns did you have at first about collecting photographic art,
or Seewald's art?)

"Permanence of the color photographs compared to B&W photos." (Understandable, but now the colors last over two centuries, verified by independent scientific research. See: Fuji Crystal Archive photographic paper/ dye

stability

).


(How difficult was it to pick a sponsored image from the collection?)

"Always tough between the last 3 or 4 images."

(Happy that you invested in Seewald's artwork?)

"Very. The work has appreciated significantly, but we
most appreciate the quality of the work."




(Are you as happy with the art now as when you first purchased it?)

"More so... Recognition of the sponsors has been fantastic... we enjoy introducing new collectors to Michael's work"

Jay and Heidi Short,
six time sponsors,
Rancho Santa Fe, California
August, 1999
E-mail/ phone number available on request.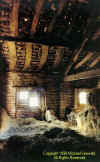 "Barn, Candas, Spain, '88"
Sponsored by Jay and Heidi Short,
Rancho Sante Fe, California.
Click to enlarge.
___________________________________________________
"Cortina window, Italy, '89"
The Piece owned by the Adams'.
"Just a note to tell you how much we have enjoyed your photography over the years. We have a lovely piece in our living room which is always commented upon by our guests.

We have enjoyed watching your success and thank you for your prayers (for Gary's cancer) over the years."

"Gary and Samantha 'Sam' Adams
La Costa, California, USA Sept.. 1998

(Gary was the designer/innovator of the titanium golf club drivers. They were the founders of Taylor Made golf clubs and then later, the "Founders Club" golf club company. Unfortunately, both of these collectors are now deceased. We miss them both very much. ms- 9/2000)
___________________________________________________

Adding a Seewald to your collection will be a time to celebrate.

Dan Sbicca pulled Michael out of 'wedding photography retirement' to shoot his wedding. This image was one of their favorites, and Michael did a little artist adjustments and framed up a big one for them. He teaches private classes on 'How to make great portraits for fun and profit'.

Above: Dan and Susan Sbicca, of Sbicca- An American Bistro, located in Del Mar, California. They are now proud owners of quite a few Seewald originals, including; 'Little Venice', Mykonos, Greece '90, Canevara, Tuscany, '99, "Volterra Bar Interior, Tuscany, '99 and Man taking picture, Assisi, Umbria, Italy, 2004.

Click photo to enlarge. Photo copyright Michael Seewald, 2004
Dan Sbicca's Man taking picture, Assisi, Umbria, Italy
See trip

availability
for sponsoring now.

See why sponsor
a Seewald original.

Back Home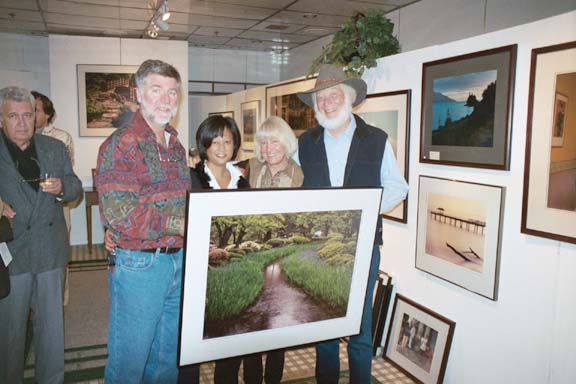 Michael and Valerie pose with collectors/sponsors David and Carol Goodell of Del Mar, California. This is their newly sponsored Japan image and the opening night celebration. This was back in 2001, at the old Valerie E. Wong Gallery, which the Seewald's ran for 10 years in Del Mar.