Michael Seewald's art collector list.

We now have over 350 sponsors, many of them
having sponsored 6, 7, 8, even 12 times now!

One collector, Dr Charles Cantor, is now filling his
corporation's walls since his house is already
full, with 45 Seewald's now (see his list)!

This all reflects one major, obvious fact, can you name it?
YEP, you got it, mucho happiness with the program!!!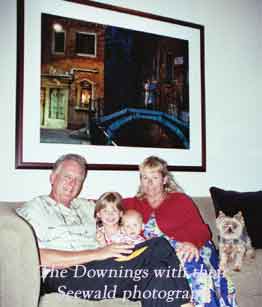 Pictured above- the Downing's with their 40"x50" image,
framed to 40x60", of Butcher on Break, Venice, Italy '94. The piece, a limited edition of only 10,
with two now sold, currently runs $30,000 and will increase to $35k after the next sale.

Major Collectors...
Kipp and Lisa Downing, owners of the Pacifica Del Mar Restaurant
(which is ranked one of the TOP FOUR in San Diego county)
have not only sponsored two trips, they outright purchased
two others for their home, then filled their
beautiful, ocean-view restaurant with Seewald originals too!!!
(Some totals include 'regular' purchases, marked by two
numbers... gallery purchases over/ sponsorship purchases.)

List is fairly up to date. If you are a sponsor and do not
see you name, or not enough 'credits', please let us know.

Note: those whom have collected 4 or more are in bright red!
And of eight or more in bright purple.
Totals
regular purchase/ Name
sponsor purchase

City

State or
Country

5

A, Mr & Mrs. Z

& D

Fairbanks

Ranch
CA
3
Adler, Al & Judy
Rancho Sante Fe
CA
1
Alexander, Mr John
Carmel
CA
1
Allen, Mr & Mrs. Jake
Encinitas
CA

2/4

Allred, Mr & Mrs. Doug
Del Mar
CA
4
Amato, Mr & Mrs. Paul
Tehachapi
CA
1
Amos, Mr. Rick
Scottsdale
AZ
1
Annweiler, Mr. & Mrs. Kurt
Daly City
CA
1
Anthony, Ms Sally
San Diego
CA
1
Aquilano, Ms Niki
Bozeman
MT
1
Atherly, Mr & Mrs Elvan
Nashville
TN
1

Atkins, Patti and David Willms

Del Mar
CA
1
Ball, Mr Bob
Escondido
CA
2
Barken, Mr & Mrs. Norman
San Diego
CA
4
Barkley, Mr Garner
San Diego
CA
1
Barnhorst, Mr Richard
Long Beach
CA
2
Bazdorf, Mr Theo
Alpine
CA
1
Becker/Sarmad, Cheri/Syed
Encinitas
CA
8
Begley, Mr & Mrs
San Diego
CA
1
Benirschke, Mr & Mrs. Rolf
Del Mar
CA
2
Bernheim, Mr. Tony
Fairfield
NJ
1
Berwick, Mr & Mrs. Lowell
San Marcos
CA
4
Biddell, Mr & Mrs. Ian
Vancouver BC
Canada


Click photo to enlarge.
Photo courtesy Ian and Heather Biddell.

The Biddell's latest sponsored photo,
Umbria, recently framed.

2
Bier, Mr & Mrs. Alan
San Diego
CA
1
Binats, Ms Wanda
San Diego
CA
1
Blood, Mr & Mrs. Randy
Las Vegas
NV
1
Blough, Mr & Mrs. Steven
La Mesa
CA

7

Blumenstock, Mr /Mrs. Robert
El Cajon
CA

2/5

Bonner, Mr/Mrs. Tom
Waco
TX
1
Boothby, Ms 'Lee'
Oceanside
CA
1
Boulter, Mr Jim
Los Angeles
CA
7
Brahms/Isenhart, (ret.) Gnrl David, M A
Carlsbad
CA

Totals
gallery purchase/ Name
sponsor purchase

City

State or
Country

2
Brand, Mr Ben
Carlsbad
CA
1
Breen, Dr Ellen
Del Mar
CA
1
Brown, Mr & Mrs Brad
Encinitas
CA
2
Buelter, Mr Tom
Thousand Oaks
CA
1
Buote, Mr Paul A, Jr
San Diego
CA
1
Burkhardt, Mr & Mrs. Phil
Rancho Santa Fe
CA
1
Butalid, Mr Thomas
San Diego
CA
1
Butie, Dr Anton
Encinitas
CA
1
Campbell, Drs. Cameron/Dixie
Coronado
CA
3

/

42
Cantor, Dr Charles
Del Mar
CA
1
Carder, Mr & Mrs Mike
Carlsbad
CA
1
Carillo, Mr Paco
Tijuana

Mexico

2

Carlin, Mr & Mr. Steve

Newport Beach

CA
2
Carter, Mr & Mrs. Michael
Tustin
CA
1
Cashman, Mr John
San Diego
CA
1
Casiano, Mr & Mrs. Vinney
Cardiff
CA
1
Cassano, Mr & Mrs Donald
Phoenix
AZ
1/1
Cassidy, Paula
San Diego
CA
1
Castellani, Mr Graz
Burlington, Ontario
Canada
1
Chabau, Ms Stephanie
San Diego
CA
2
Cherry, Mr Jeffrey
Herndon
VA
1
Chen, Minoru Shut
Irvine
CA
1
Cinco, Mr & Mrs. Gino
San Diego
CA
4
Clark, Mr Rick
Carlsbad
CA
1
Comforti, Mr & Mrs James
Encinitas
CA
2
Conrad, Mr & Mrs Marty
Encinitas
CA
1
Consoli, Mr & Mrs Frank
Costa Mesa
CA
2
Cook, Mr John
Leucadia
CA
1
Costa, Mr & Mrs Alvaro
Carlsbad
CA
1
Costales, Mr & Mrs Lawrence
Lake Elsinore
CA
1
Crabtree, Mr & Mrs Jack
Encinitas
CA
1
Craven, Mr & Mrs Kevin
Encinitas
CA
2
Cuccia, Mr & Mrs Andy (Cooch)
Oakley
CA
2
D'Acierno, Mr & Mrs John
Laguna Niguel
CA

Totals
gallery purchase/ Name
sponsor purchase

City

State or
Country

6
Dankworth, DDS Drs Steve & Kim
La Costa
CA
3
Davidson, Dr & Mrs Alan
San Diego
CA
1
Davis, Mr & Mrs John
San Marcos
CA
2
Davidson, Mr & Mrs Bill
Del Mar
CA
2
Dawe, Ms Cecelia
Portsmouth
VA
4
Dender, Dr & Mrs Jack
Encino
CA
1
Denver, Mr & Mrs Paul
Encinitas
CA
4
Dohl, Mr & Mrs Eric
Encinitas
CA
2
Donovan, Mr. & Mrs Joe
Chappaqua
NY
1
Dourado, Mr. & Mrs. Glenn
San Diego
CA
10/2
Downing, Mr. & Mrs. Kipp
Del Mar
CA
1
Doyle, Mr & Mrs Bob
Salem
MA
1
Dredge, Mr & Mrs James
San Diego
CA
2/1
Dunnum, Dr Russell
San Diego
CA
8
Edwards, Catherine
Baja California

Mexico

2
Ehret, Bill & Debbie
Indianapolis
IN
2/2
Eicher, Noel & Victoria
Poway
CA
1
Emery, Mr & Mrs Tom
Charlottesville
VA

3/1

Engel, Ms Wilma
La Jolla
CA
1
Ennis, Mr Dave
Encinitas
CA
2
Enrico, Mr & Mrs Roger
Dallas
TX
2
Fairbank, Mr & Mrs Arnold
La Costa
CA
2
Fang, Ms Grace
San Francisco
CA
1
Fang, Ms Kay
Del Mar
CA
1
Farnam, Mr & Mrs William
Rancho Santa Fe
CA
5
Faulkenberg, Mr & Mrs 'Doc'
Oceanside
CA
1
Felico, Mr & Mrs Chris
Pomona
NY
2
Felsted, Dr & Mrs Tom
Visalia
CA
2
Fink, Mr Seth
Dallas
TX
5
Fisher, Mr & Mrs David
Cincinnati
OH
1
Fisher/ Woodcox, Jane/ Scott
Carlsbad
CA

Totals
gallery purchase/ Name
sponsor purchase

City

State or
Country

1
Fitzpatrick, Ms Jane
Escondido
CA
1
Foate, Mr and Mrs
Solana Beach
CA
1
Foreman, Dr Beth
Encinitas
CA

3/13

Fox, Dr & Mrs Roger
Murrieta
CA
1
Franklin, Ms Terri
Leucadia
CA
1
Fredella, Mr Robert
Irvington
TX
1
Fredricsson, Mr Bo
Sweden

2/6

Frickman, Dr & Mrs Robert
Encinitas
CA
4
Gaffrey, Mr Lee
Encinitas
CA
1
Gamiz, Mr & Mrs Aaron
Carlsbad
CA
2
Geller, Dr Jon & Jan
Murrieta
CA
3
Gerak, Mr Ken
Del Mar
CA
3
Giot, Mr & Mrs Yves
Houston
TX
2
Gomes, Ms Carol
San Diego
CA
2
Goodell, Mr & Mrs David
Del Mar
CA
8
Grell, Mr & Mrs David
El Cajon
CA
2
Grumel, Mr Vincent
Escondido
CA
2
Hacquebord/ Gikas
Los Angeles
CA
2
Hahn, Mr Harold & Dr Eileen
San Diego
CA
1
Hanold, Mr Keith
Encinitas
CA
3
Hanson, Mr & Mrs Steven
San Diego
CA
3
Harland, Mr & Mrs Bernard
Solana Beach
CA
1/1
Heddinger, Debra
Monroeville
PA
2
Heller, Mr & Mrs Chris
Encinitas
CA
4
Heller, Mr & Mrs. Richard
Carlsbad
CA
1
Hill, Ms Ann
Sonoma
CA
3
Hirsch, Mr & Mrs Leonard
Coronado
CA

2/4

Hodges, Mr & Mrs David
Solana Beach
CA
1

Holbrook, Ms Mary

Port St. Joe

FL
1

Hol

ly, Ms Amanda
San Diego
CA
3

Ho

verstein, Mr & Mrs Estil
Del Mar
CA
3
Hubbard, Mr & Mrs Clinton
San Diego
CA
1
Huerta, Mr David
San Diego
CA
1
Hulse, Ms Judith
Del Mar
CA
2
Huizar, Mr Frank
Vista
CA
2
Hunter, Mr & Mrs Mark
Leucadia
CA
1
Isaacson, Mr & Mrs Arthur
Clinton
CT
1
Jaglo, Ms Kelly
San Diego
CA
4
Jarvis, Mr & Mrs Doug
Vista
CA
1
Jordan, Mr & Mrs Robert
TX
4
Joy, Ms Amy
Phoenix
AZ
1
Judd, Naomi
Nashville
TN

Totals
gallery purchase/ Name
sponsor purchase

City

State or
Country

1
Kewin, Mr & Mrs Michael
Del Mar
CA
1
King, Mr & Mrs Jake
San Diego
CA
1
Krone, Ms Cecelia
San Diego
CA
1
Krupchak, Ms Tamara
San Diego
CA
4
Kuba, Mr & Mrs Glen
Fairbanks Ranch
CA
1
La Caze, Mr & Mrs Michael
Del Mar
CA
1
Landon, Mr Bill
Murrieta
CA
1
Langlois, Mr Joseph
Escondido
CA
1
Lardon, Dr Michael
Bonita
CA
2
Lee, Mr & Mrs Dennis
Cardiff
CA
5
Lefferdink, Mr & Mrs. John
Cardiff
CA
1
Lehner, Mr & Mrs Greg
Tucson
AZ
1
Lerner, Mr & Mrs Leslie
Allentown
PA
1/4
Lewis, Mr & Mrs Craig
Olivenhain
CA
3
Luke, Mr & Mrs Chuck
Del Mar
CA
2
Lunden, Mr & Mrs Chuck
San Marcos
CA
1
Lyons, Mr Howard
San Jose
CA
1
Macchia, Mr & Mrs Jerry
Leucadia
CA
1
Mahl, Ms Hilliary Dawn
San Diego
CA
1
Mallen, Mr & Mrs Jim
Encinitas
CA
1
Mansdorfer, Mr & Mrs John
Solana Beach
CA
4/1
Mantis, Mr Keith
Las Vegas
NV
2
Marrokal, Ms Lynda
Santee
CA
2
Martine, Mr & Mrs Chet
Denver
CO
1
Marusek, Mr & Mrs Phil
La Costa
CA
1
Mascolo, Ms Mary
Pompano
FL
1
McCormick, Mr Jason
Carlsbad
CA
2
McGarry, Mr & Mrs John
Bellingham
WA
1
McKenna , Mr & Mrs Bill
San Diego
CA

Totals
gallery purchase/ Name
sponsor purchase (steve@merchantendo.com)

City

State or
Country

1

Merchant DDS

, Mr

Steve
Orange County
CA
4

Melendez, Drs. David & Lorraine

Cardiff
CA
1/1

Mendoza, Mr & Mrs T

odd
San Diego
CA
1
Moreno, Mr and Mrs Luis
Carlsbad
CA
2
Meskin, Mr & Mrs Russell
W Bloomfield
MI
1
Mistry, Mr & Mrs Gayomard
Mission Viejo
CA

1/3

Moore, Mr & Mrs Ike
Oceanside
CA

1/2

Morris, Mr & Mrs Harold
Shaker Heights
OH

2/4

Morse, Mr & Mrs Henry
San Diego
CA
2
Mueller, Mr. John
Naples
FL
2
Musgrave, Dr & Mrs. Nelson
Escondido
CA
1
Nelson, Mr & Mrs. Norm
Wynnewood
PA
1
Nelson, Mr Robert
Santa Fe
NM
1
Nielsen, Mr. & Mrs. Steve
Escondido
CA
3
Nishimura, Mr & Mrs Michael
San Diego
CA
2
O'day, Mr Patrick
Fairbanks Ranch
CA
1
Olivo, Mr & Mrs Nello
Cameron Park
CA
2
Olsen, Ms Cynthia
Pagosa Springs
CO
2
Olson, Mr. & Mrs. Ken
Del Mar
CA

2/2

Orlando, Mr Michael
Sol Beach
CA
4
Osborne, Ms Ruth
Glendale
CA
2
Otis, Ms Ann
La Costa
CA
1
Owen, Mr. & Mrs. George
San Diego
CA
3
Palumbo, Mr. William
San Diego
CA
1
Paradise Grill Restaurant
Encinitas
CA

2/2

Parson, Mrs Jeanette
Fallbrook
CA
1
Passant, Mr. & Mrs. John
Australia
2
Patterson, Mr. & Mrs. John
Cardiff
CA
1
Paulsen, Mr. & Mrs Loren
Fairbanks Ranch
CA
2
Pichette, Ms Janet
CA
1
Piquemal, Mr Jacques
Corona Del Mar
CA
1
Pischel, Mr & Mrs. Ken
La Jolla
CA
3
Pollak, Mr & Mrs Jeff
Denver
CO
1/1
Popovich, Ms Kashi
Maui
HI

Totals
gallery purchase/ Name
sponsor purchase

City

State or
Country

2
Quivers, Ms Robin
New York
NY
1
Ravazzolo, Mr & Mrs Ken
San Diego
CA
3

Rife, Mrs Wendy

Del Mar
CA
1

Ritz, Mr & Mrs Robert

Point Loma

CA
5
Rosen, Dr Elliot
La Costa
CA
1
Roski, Mr Steve
San Diego
CA
1
Ross, Dr & Mrs Arnold
Los Angeles
CA
2
Rowe, Mr ' Micro'
Encinitas
CA
2
Rubush, Dr & Mrs John
San Diego
CA
4
Sabesky, Mr Paul
Tehachapi
CA
2
Sakamato, Paul & Gail
Venice
CA
1
Salute, Mr Gary
Moorpark
CA
7
Sbicca, Mr & Mrs Dan
Encinitas
CA
1
Schimpff, Ms Jane
Encinitas
CA
1
Schloot, Ms Julie
Nashville
TN
1
Schmauss, Ms Jane
Encinitas
CA
1
Schreiber, Mr & Mrs Dan
San Diego
CA
1
Schroeck, Mr Steve
Cardiff
CA
1
Schvey, Mr & Mrs Henry
St Louis
MO
1
Seewald, Mr & Mrs Ray
Sioux Falls
SD
1
Seewald, Mr & Mrs Steve
Fresno
CA
4
Shaw, Mr & Mrs Robert
La Mesa
CA

2/3

Shaw, Mr Doug
Cardiff
CA
1
Shields, Dr David
Encinitas
CA
1
Shields, Mr & Mrs David
San Diego
CA
2
Shiell, Dr Ron / Kartum, Dr Karen
Jamesville
NY
5
Short, Mr & Mrs Jay
Rancho Sante Fe
CA
1
Sigala, Mr & Mrs Robert
San Jacinto
CA
2
Silva, Ms Judy
El Dorado Hills
CA
1
Silver, Mr. John
Orange County
CA
1
Simon, Ms Sheila
San Francisco
CA
2
Simpson, Mr Tylor
Laguna Beach
CA
1
Sipe, Mr & Mrs Steven
San Diego
CA

2/5

Slott, Mr & Mrs Marc
Encinitas
CA
1
Slover, Mr & Mrs Bill
Bellingham
WA
2
Slusher, Mr. and Mrs. Charles
Oceanside
CA
2
Smith, Ms Kim
Palm Beach
FL
2
Snarey, Mr Jason
Solana Beach
CA

Totals
gallery purchase/ Name
sponsor purchase

City

State or
Country

5
Spinelli, Mr & Mrs Thomas
San Diego
CA
1
Stadtlander, Ms Linda
Carlsbad
CA
3
Stetina, Mr & Mrs Fran
Bowie
MD
2
Stevens, Mr & Mrs Mike
Valley Center
CA
1
Stevenson, Mr & Mrs John
Carlsbad
CA
1
Stone, Mr & Mrs Gavin
Longbeach
CA
1
Stringer, Mr & Mrs Robert
Longbeach
CA

2/5

Stylli, Mr & Mrs Chari
San Diego
CA
1
Sullivan, Mr Patrick
San Diego
CA
1
Szem, Mr & Mrs Jeffrey
Kailua
HI
2
Szold, Ms Alix
Carlsbad
CA
1
Takacs, Mr & Mrs Edward
Encinitas
CA
1
Tatman, Dereck
San Diego
CA
1
Talvy, Mr & Mrs William
San Marcos
CA
1
Taylor, Tim
Encinitas
CA
1
Tamara, Ms Jean
San Diego
CA
1
Tantalean, Mr & Mrs David
Mesa
AZ
2
Tirtawidjaja, Alexi
Bakersfield
CA
1
Tetrick, Mr & Mrs Rob't
La Jolla
CA
1
Thomas, Mr & Mrs Frank
San Diego
CA
4
Thompson, Ms Janet
Carlsbad
CA
1
Tostengard, Mr Stephen
Granite Bay
CA
3
Tucker, Mr & Mrs John
La Mesa
CA
1
Ursino Sr., Mr & Mrs Vincent
ChathamTmph
NJ

2/2

Van Wart, Mr John
Reno
NV
1
Vander, Ms Lisa
San Diego
CA
1
Ventura, Ms Sandra
Bakersfield
CA
2
Videna, Merwin
San Diego
CA

2/4

Walsh, Mr & Mrs Tim
S. Salem
NY
3
Wassink, Mr Bret
Oswego
NY
1
Watts, Mr & Mrs Edward
Rancho Mirage
CA
5
Waxman, Mr Jonathan
Maui
HI
4
Webb, Mr Stan
Wichita
KA
1
Weeks, Mr Willie
Brentwood
TN
2
West, Mr & Mrs Dick
Leucadia
CA
1
Werger, Mrs Becky
Escondido
CA

Totals
gallery purchase/ Name
sponsor purchase

City

State or
Country

2
Wheeler, Dr & Mrs Steven
Rancho Santa Fe
CA
1
Whitmore, Mr & Mrs Martin
Leucadia
CA
1
Wiebrecht, Mr & Mrs David
Carlsbad
CA
2
Wilhite, Mr & Mrs Brian
San Diego
CA
1
Williams, Mr & Mrs Mervin
Glendale
CA
1
Wimsatt, Mr & Mrs Dan
San Diego
CA
1
Wolff, Mr Irv
Del Mar
CA
1
Womble, Ms Amanda
San Diego
CA
6
Wong, Ms Valerie (now V. Seewald)
Del Mar
CA
3/1
Wood, Mr and Mrs. Craig
Encinitas
CA
1
Yee, Mr Eric
Long Island City
NY
1
Young, Mr Mike
Oceano
CA
1
Zenin, Ms Tonya
Cupertino
CA
1
Zimmerman, Ms Carol
San Diego
CA
See one collectors list: Dr Charles Cantor



reset 10.'08