Collectors Corner
Portfolio offerings...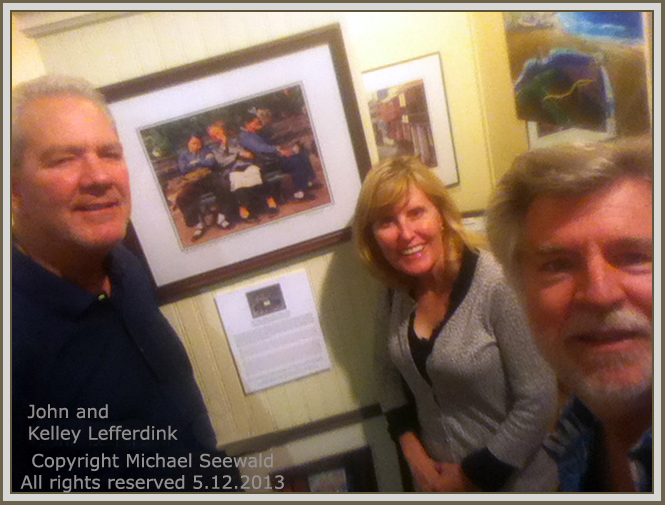 Long time collectors John and Kelley Lefferdink have collected many Seewald images.
Here they pose with Michael at his gallery in Del Mar, California.
The image they pose with is the one the Lefferdink's sponsored, 'The Three Graces, Xian, China'
back in the mid-eighties. The original is valued at $100,000, and will increase to $500,000 after the next one sells
(this is one of only a few 'reproductions' left also) .

With over 60 world-wide
portfolios now created by
master photographer Michael Seewald,
when would be a good time
to start collecting his art?
Due to the fact that a lot of folks
love collecting Seewald art, but have basically
filled up their homes and have no more
room for more, we came up with a way
for them to keep collecting/investing
in these stunning, museum award winning images!
How? By investing in a series portfolio, and
there are a couple of options at this point.
This is along the lines of 'sponsoring', but
instead of pre-purchasing a future from the
series, and getting you name on it, getting
the first of the series, etc. (in case you don't
know about it yet, click here to check it out),
you would be pre-purchasing a complete set,
also of your choice, from Seewald's best work.
Here are the offerings:
(12) 11x14" images, with a minimum value on release of $9K, but possibly up to $12K if they are all sponsored images, for only $3K
Mounted and matted to 16x20" acid free mat board.

(12) 16x20" images, with a minimum value on release of $27K, but possibly up to $36K if they are all sponsored images, for only $9K
Mounted and matted to 24x30" acid free mat board.


These will all be mounted and matted with archival matboard, and stored in an archival box for safekeeping. It will
include cotton gloves for appreciating/showing friends/visitors this collection from your home or office.
Back to: Main Michael Seewald
unique sponsorship info page.
http://www.lightimpressionsdirect.com/tan-truecore-dropfront-box-24-x-30-x-3/archival-flat-storage-boxes/


page created 6.17.'13