Chianti in Greve, Sant Angelo in Colle, Montalcino, Italian art, photographs of Italy, italy photos, artwork of, fotos of, Lido, lido,
murano, italian, toscanna, tuscany, montelcino, siena, luca, italiano, Italiano, Venice, Rome, Roma, Dolomite,Cortina, venice canals, venician, Milano, Milan, milan, Bologna, Tuscany, photo workshops, photographic workshops, photo classes,
photography classes, seewald, Valerie E. Wong Gallery, Seewald's, Michael Seewald, photographic art, limited editon art, photos, photographs, Seewald's, Michael Seawald, Sewald, arte, photographia,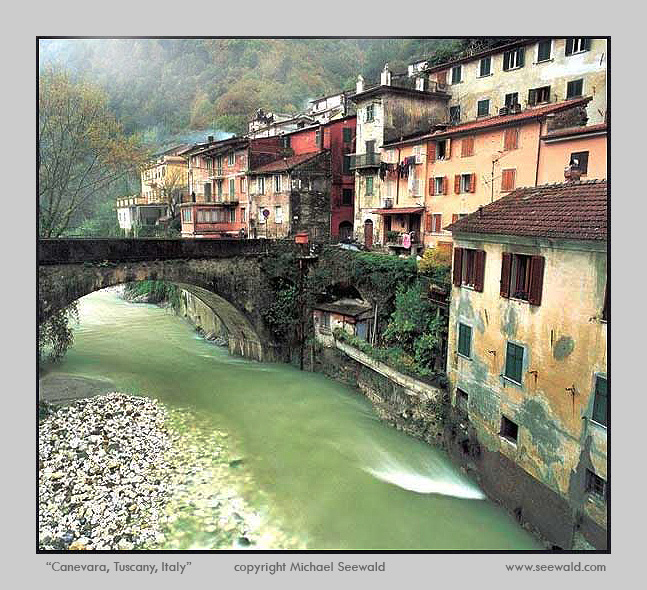 Tuscany Town on River, '99
Sponsored by Michael Orlando of Del Mar, California.
All rights reserved. No use without permission.
Copyright Michael Seewald.

"Marble mountains, marble dust, marble sculptors, marble trucking. I was in the famous historic marble-lands of Massa-Carrara, where Michelangelo found his marble block for his art, including the famed piece 'David'. Today, due to modern methods and machinery, they mine in one hour what used to take a month. Driving into the hundreds of little hamlets tucked into the hills and valleys under the marble covered, snow capped looking mountains you'll find gems such as this town.

A light rain danced on my umbrella as I worked this scene, exposing negatives where the only difference was the amount of mist coming and going through the valley, and the smoke slowly changing directions above the houses." ms
Available in:
Originals; 11"x11", 16"x16", 24"x24", 30"x30", 40"x40"
Reproductions; 13.5" x 13.5"
(Un-framed sizes.)

Please note:
Large copyright notice is not printed this way on the reproductions.

For current prices please visit our order/ price list page.
Back to all Seewald Italian photographs

Counter started 7.28.07

Massa San Gimignano, Montepulciano, Montepulcino, Chianti, Chianti in Greve, Sant Angelo in Colle, Montalcino, Italian art, photographs, artwork of, fotos of, Lido, lido,
murano, italian, toscanna, tuscany, Cortina, venice canals, venician, Milano, Milan, milan, Bologna, Tuscany, sienna, Florence, Sienna, florence, tuscany, tuscan, italian, Italian, Italy, workshops, photo classes,
photography classes, seewald, Michael Seewald, photographia, arte, Del Mar Plaza, photographic art, limited editon art, photos, photographs, fine art photo, Seewald's, Michael Seawald, Sewald, arte