10.18.'10
Well, I've been wanting to shoot Texas for some time now (create art). Looking forward to seeing and photographing this great state. Bass fishing, my hobby, is said to be outstanding, so I'm bringing my poles and gear, and I've lined up some 'back-seats' (rides on folks boats, you fish the back, they the front, controlling the boat with their trolling motor) on certain lakes already.

Got going on my three and a half week Texas photo adventure/fishing trip thanks to Paul Owens, a pastor and a fishing buddy. He helped me get my old '97 Dodge Grand Caravan ready. It has 261,000 miles now. He also inspired me to keep going after a call for prayer, for travel mercies, just minutes earlier, as my 'check engine light' came on just after departing last night at 9 pm on the night of the 18th. He said it's usually a smog deal, not to worry, so I did (Paul, light went off, thanks).

"...The winds were so fierce I thought a dozen folks were trying to bounce it off the road, and I was not even driving, just parked. I thought a tornado was going to toss me over any second..."

Got to Mittry Lake about 12.30 a.m., threw frogs and Matt's new Jitterfish swimbait till 3.30 am, only got one hit, but air was nice and moon was only half hidden by rain clouds. Mosquitoes out full force, thank God I brought repellent. Sprinkled on and off, special time solo fishing. Lost a Spro popper to a single pampas grass type reed w/ 80# braid, that stuff is strong.

10.19.'10
Up at 6.50 AM after sleeping in the van there and started where I left off, frogs and swimbaits. Now I could see a bit better. Was at Betty's Kitchen crossing- B-U-T-FULL sunrise, clouds and all reflecting in the lake, air temp perfect (65, high of 82).

Got a giant explosion on a Spro white/orange frog, but it did not stick. Also, 'recovered' my lost frog 'during my bath in the lake' this morning. Heck, I'll take a cool bath for $10, besides, that lure is goin' to get me a lot more bass, Lord willing of course.

Put that frog on and proceeded to try the spot where I lost the big one, she went again but again no hook-up. Darn. Left at 9 am, stopped in Gila Bend a couple of hours later (was there for three years as a kid, saw our old home- funny how they shrink) - 4 hours from El Paso, where the aliens were the night before!!! Heard on the news, same lights over New York the night before that (triangle, hovering, etc.).

Onward, luckily McDonald's had free wiFi, can check on messages. Stayed at a Motel 6 in Las Cruces, NM, very tired.
10.20.'10 - 6 p.m.
Up late, and crossed into Texas in the afternoon and El Paso welcomed me with a spectacular lightning storm the likes I've never seen, right at dusk. Got great shots with ocotillo and barbed wire fence foreground, black clouds on one side, lightening striking across the whole scene during my 20 second exp., and red sunset on right side! Killed it, not bad for 1st day shooting.
The storm hit me (the van) so hard after I got in it, as the rain started as I was shooting. I believe deluge is the word here! The winds were so fierce I thought a dozen folks were trying to bounce it off the road, and I was not even driving, just parked. I thought a tornado was going to toss me over any second, and now it was totally black out, eerie. I eventually got going, but the storm got so bad again I pulled off the road for a bit, the car was hydroplaning every 100 yards. Got some great video on the iPhone, here it is:

Here is footage of some of the lightning.
Note: not as dramatic as in real life, the iPhone is pretty good with video,
but not great in this night light situation.
Drove to a town called Van Horn and 'camped' in the van, at the end of a long line of 20 truckers, at about 12.30 a.m.. The dog barking from a truck and horse trailer rig nearby stopped with the owner calming it down; that would have been bad, non-stop. Was quite for about 15 minutes, then the first of many trains jolted me to awareness as it seemed to go right through my van, oh well, I'll live, and went back to sleep.
10.21.'10

Up at 8.45 after a so-so sleep, due to all the trains. Grabbed a breakfast at the Sands Restaurant, 100 yards from the spot I'd slept; got the pancake special, w/ egg and 3 bacon slices, $6.50. After three cups of coffee and checking messages, thru my new iPhone, I paid the bill and headed out the got to continue east.
But I noticed a section of the restaurant would make a nice shot, with the wide angle, and the waitress gave me permission to set up, so I did. The wall had a faux painting of a western scene, with the local poster of the high school football team, and a table with dollar bills left on it from each patron that had just left, a TV played in the background. Figured the setting and took a single neg. Later realized I did not use the polarizer, but had figured the setting to do so, that's where a digital back would have come in handy, the shot was two stops off, bulletproof as we say. Printable, but not perfect. I'd like to re-shoot it on the way back.
The restaurant boasted some shots of Tommy Lee Jones and cast/crew from a 2005 move he produced and acted in, using the restaurant and town in the movie, "The Three Burials of Melquiades Estrada". http://rogerebert review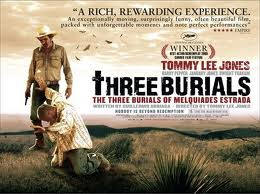 The waitress said San Antonio is not to be missed, so I went 'right' a few miles down the road, as I'd had been debating to hit Dallas/Fort Worth or lower Texas first. San Antonio is lower, so I took the 10.
Made it to 'Junction', just about 100 miles west of San Antonio and noticed a river, so if you know me, I had to stop and see if it had bass- just a test you see;/).
"Heck, I'll take YOU out on YOUR boat"
I responded with tons of enthusiasm.
Found a store and bought my out-of-state license ($58 buckaroos) and went down and started to toss Kermit. Nada for first hour, but that was ok, as two young Hispanics on the other side were tossing him too and did not get any either, and I saw there side had more grass edges, as well as some tulles; my side was pretty bare, but then again I did not know the area. I thought my skills might prevail, so they were now in a tourney without knowing it. I was tossing the lost popper Spro dude, and I finally got a nice hit. Started to work it like a fleeing shad (plenty around doing that) as no other patterns were working ('pop, pop, pop', or 'pop, wait, pop, wait') and finally got my first Texas bass, cool. Me one, then none. It was only a 1/2 pounder, but hey! I moved down past the waterfall/dam area, they were there too now. Threw a Super Spook, and the Zoom kick-leg frog, for nada. Got dark 1/2 hour later, ended up me 1, them none.



Click photo to enlarge
First Texan bass came on my Spro popper frog. Maybe a Guadalupe bass?

Lined up a trip to Lake Amistad for Saturday, with a pro/guide, TUL!
10.21 con't. (9:45 p.m.)
Kerrville, TX
Kerrville, where I'm now at, has a McDonald's w/ free WiFi, so I'm updating from here now (9:45 p.m.). Made plans to fish Lake Amistad on Saturday with a pro/guide named JC Gwynne (www.theamistadman.com) an hour ago, cool. I'll shoot there tomorrow afternoon, and after we finish fishing on Saturday too. He'll show me some places he thinks would be good. After that I'll most likely work over to San Antonio, I've been doing some research, looks like a great place to shoot, indeed.

Click photo to enlarge
Kerrville was my first all day stop, this was one of the
two parts of the split river, very fishy looking. 10.22.'10
10.22.'10
Kerrville
I fished Kerrville from 7 a.m. till dusk, it was overcast and sprinkling most of the day, and it had a nice slow river with an island of sorts that I fished from, actually the river split in two and went around a long section (island). Fished for a few hours, getting a blow up here and there, and did not get one (fished the Spro frog mostly) until mid day. Went and had lunch, and came back towards dusk and made some really nice photos.
10.23.'10
Lake Amistad
Full Pool- lake water levels, Amistad / Falcon

Left Kerrville last night at dark and drove to Lake Amistad, I had to be here by morning for my trip out with JC. on 10.23. Saw lots of deer along the edges of the road, you don't really see them until you're going by them. If they jump out it could well be too late to stop. And, of course, there were lots of 'blood spots' on the hwy from weeks previously, and one or two from the ones hit in the last day.


Click photo to enlarge
Sign in the restaurant where I ate.
I ate my first Texan BBQ here at a small town on the way, and continued on and almost hit a deer at 60 mph. It came out and stopped in the middle of the road looking at me, but I managed to stop in time, throwing everything in the van forward behind me, and off the passenger side next to me!!!
I night fished at a lunch ramp on the lake from 9:30 till about 11:30, no hits, mostly swimbait and frog. Slept there and up at 6 a.m., time to go get breakfast. Hit Jack in the Box in downtown Del Rio, but notice the clock read 7:30 there, must have been wrong. Asked the manager the time, he confirmed 7:30 and I freaked, my cell phone must not have up-dated automatically, like it did in Arizona! Bummer. I called JC but all was well, we were to now meet at 7:45 at 'the junction' (sunrise was at 7:30). Cool. But as I waited for the two breakfast sandwiches to be made two gentlemen pulled up with a bass boat and I struck up a conversation.
"How's the bite?" I asked.
"Don't know, have not been out in two weeks" the heavyset gentleman said.
"I've never fished here, first time going out today" I followed up.
"Hey, aren't you" and he tried to reach for a name or something.
"Otay Michael?" I replied inquisitively, wondering if he knew me from TFF. (Texas Fishing Forum)
"Yeah, from the message boards- T.F.F." he replied, stunning me completely. "I was going to respond to your request for a backseat on my boat, but I don't know how to drive my own boat, or launch, my friends take me out on it" he continued!
"Heck, I'll take YOU out on YOUR boat" I responded with tons of enthusiasm.
Well, the Lord worked this out beautifully, and we set up a time to go out the following afternoon, and I was off to join JC.
I me him and put my gear in his boat and left my van, then drove the 1/2 hour to launch from from the far north-east ramp in Rough Canyon and fished the south area first, all topwater. I threw the Super Spook, and the Lunker Punker, swinging for the fences. He had not fished this area lately so he did not know how the bite would be, but it was good in the 'main lake' as he called it, getting 39 the day before with his clients. However after an hour and a half we had not had a hit, really amazing him. "It's usually good all around here" he said, "onward." We hit one more spot in the far back of the cove for a few casts, and then left.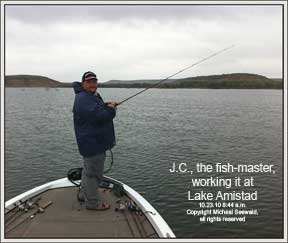 Click photo to enlarge
J.C. up front, non-stop explaining of how things 'work' on this lake.
I really appreciated it, I'm trying to learn as much as I can, as I just got back into fishing
at the age of 52 (seven years ago), and at that age, how many years do you have left, right?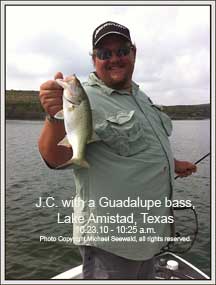 Click photo to enlarge
First of many bass caught by J.C., a dink, but
getting the stripe off the boat none the less!
We went up the Devil's River, where he wanted to show me the beautiful old Indian homes, giant caves in the hills, areas they could only get to by dropping ladders down to them. We got on some bass there, hybrids maybe, Guadalupe / smallmouth. They are aggressive and we got them right away in the secondary set of sunken trees, in about 20', not the ones mostly still sticking out of the water in 10' of water.


Click photo to enlarge
First of my many bass, and probably the smallest, caught at Lake Amistad,
JC Gwynne in background.
We then went across the ramp area and fished some coves with d/s and Texas rigged worms and lizards, but no more action. He called his bud over on the main lake, same tough bite over there. Oh well. After getting the boat on the trailer he was nice enough to take me up over the 90 and show me some spots I could fish from bank easily, and that panned out well, thanks JC, for a great day on the water and taking the extra time to show me around.
Later that afternoon, I waded out and fished the frog, netting me a nice one over 3 lbs:



Click photos to enlarge
Evening frog fish.
10.24'10
Amistad con't. - Sunday
I went to a spirit filled non-denominational church close to the hwy 'split' by the lake and praised the Lord, then waited for 2 pm to arrive, the time Carlos and Anthony were to leave for the lake. We hit the state ramp, 277 South, and fished close by, west of the ramp in the first big cove or so. It did not pan out, and we went to San Pedro cove I think it's called. We got into some busters and Carlos got a couple right off the bat, small lures. We kept at it, and towards dusk, Anthony and I both using the Super Spook, when Anthony got a nice hit on a buster, it turned out to be a 7 or 8 pound lunker- cool!

Click photo to enlarge
Anthony's Lunker.
10.25'10
Amistad con't. -Monday
Carlos was nice enough to offer to go out with me one more time, two days later. So I decided to stay in the area, but first, at sunrise, this from a report I already made:
"...And this morning I witnessed a 8 pounder emerge, mouth wide open and seemingly in slow-mo, from the side with morning sunlight lighting her up! She inhaled my frog along with a ton of pod grass and came half way out of the water, but I missed the hookset!
Yes, due to the fact I was stupid enough to have an extra pole, t/r worm, tucked into the front of my shirt. It stopped me from the hookset for such a large fish!"
Went out to Judge Roy Beans old saloon/courthouse and looked for images to make, along w/ a stop along that end of the lake, nothing panned out. Got back late afternoon and found out about, and stopped at, Patch's Tackle store.

, and decided to shoot took the 90 North to look for photos the next day,
Meet an interesting 'old timer' (gotta watch it, getting there myself according to the mirrors I've looked into recently :/). His name is Patch, and he runs Patch's Enterprise, a tackle store on the 41 just off the lake. I filmed him for a couple of minutes, he has some interesting stories:
Interview with Patch, owner of Patch's Tackle Store in Del Rio/ Lake Amistad.



Click photos to enlarge
The last evening at Amistad netted me my first Texas swimbait fish, using Mattlures Jitterfish.

10.26.10
Amistad con't. - Tuesday
10.27.'10 Wednesday.
Falcon Lake, full pool
lake water levels, Amistad / Falcon
After fishing Amistad I was excited to head to Falcon Lake, a place I'd heard about a year or two earlier, some of the pros went there and ended up with 40 pound sacks (for 5 fish)! It was a little over four hours further south, 240 miles.
When I arrived in Zapata, the only town on the American side, it was early afternoon. I found a tackle store (Robert's Fish N Tackle) with a bass boat out front. It was run by one Robert Amaya. Robert looked like a cherub; stocky/chubby with a sweet rounded face with smile glued on it. I knew there was a least one other store (Falcon Lake Tackle), as I'd read about it online, and that the proprietor posted reports on a blog- and I'd read some. I wanted to check it out later.
I been praying the Lord would work it out to where I could get a back seat TODAY and fish this wonderful lake, mainly because I didn't have much time to do so; I'd made an appointment to join one James Peel at a lake way up north of there the two evenings later. I prayed for a miracle; that the owner of the boat out front: 1. had not just got off the lake; 2. was going out solo; and 3. would invite me to accompany him. Instantly the prayer got shot down, the guy WAS going out, but he had a buddy with him and they just arrived to the area too. They reported their friend, whom had been there a day already, had gotten a 40 pound bag earlier THAT day! Wow. I was getting excited, but doubted the story, as all reports I'd heard was that the bite was off, and said so. But Robert said, 'yeah way', and that he himself had done it many times, any time of year!
Cool, but what to do now. They left, and with no one else around, and after finding out Robert was also a guide and had been all his life there, I thought what the heck, and quietly prayed Robert would be my answered prayer and would take me out. I made my proposal of art for payment in trade of a back seat. He thought about it for about 10 seconds, and then had an enthusiastic "sure, gives me a reason to go out and pre-fish, I have a client coming in two days!"). He said he had to confirm with the wife, and after explaining to her he got the ok! Thank U Lord. An hour later, after running and getting us both a late lunch, we were off. He kept the boat right behind his shop.
He had his spots, and after launching we headed a couple of miles south east, towards the dam, but kept on the USA side (he says he only fishes that side, and has for some time. This was just a couple of months since the lady claimed her husband was shot off a jet ski and killed, next to her, by banditos over on the Mexican side, up a big cove at a flooded town).
We fished a submerged sendero crossing, (sendero, a wide path cut through the brush to make way for power lines, telephone lines and underground pipelines that move the area's oil and gas. Many senderos also serve as ranch roads). It was about 300 yards from shore, in about 10' depth, the tops of the brush barely visible. Robert claimed for some reason the bass really liked this spot, and at times had caught dozens of fish here per day, many double digit is size.
He was surprised that after 1/2 hour we'd no hits yet. We slowly moved around, 50 yards here, 50 yards there, but always coming back to 'the spot'. I tossed the Lunker Punker mostly, and Robert and I both kept an expectant eye on it's rhythmic slashing I imparted to it, expecting to see the explosion of a lifetime erupt on it at any moment, and he said so. But it was not to happen. At dusk he hit the brush one last time with his Lake Fork 6" bass pattern Shad. He dead-sticked it and hopped it and WHAMMO, fish on. A nice 7 to 8 lb chunk. He told me to toss my plastic (had a T/R 12 worm on) on he same brush, and I did a few times, but nada.
(L) Robert Amaya holds up a shot of \Skeet Reese and himself.
(R) Robert holds up an eight pounder he caught with me.
We packed it up and got back to the ramp before dark, Robert doesn't trust being out past that. When we got back to his shop I picked his brain to see if he knew of anyone around that might take me out the next day. He said he had an acquaintance who just hit town and bought a second home here, and fished daily. He called and left a message. He also said it'd be ok to 'camp' in front of his shop, cool. I went to town, found a restaurant and watched the end of the world series, the Texas Rangers were in it, got Texas all excited- San Francisco Giants ended up slaughtering them overall.
Next morning hit J.I.B. and then Robert's to try his friend again. Finally we got a hold of him, and we made plans to go out in very windy conditions.
Robert and his friend Terry Reynolds, whom he introduced me too.
Terry offered to take me out on his boat.


Click photos to enlarge
Lake Falcon images
10.29-30.'10 Fri., Sat..
Lake 'Purtis Creek'
Lake 'Purtis Creek', a catch and release lake only, is about 1.5 hours south of Dallas. James Peel, an avid swimbait fisherman like myself, invited me to join him weeks earlier. Thanks James. Got there after a VERY long drive from the southern border, joining him in the late afternoon, 5ish. We fished some of his favorite holes, the fish eluded us pretty much. Fished till late into the night, probably midnight, and the big fish on big baits never materialized, it had for him over the past few months, but now, the weather/seasons were changing quite dramatically, so was the bite.



Click photos to enlarge
10.29-30.'10 Lake 'Purtis Creek' w/ James Peel, an avid swimbait fisherman like myself.
Up at 6 a.m. after both of us sleeping in our vehicles, luckily I had an extra blanket as James had forgot his, it must of gotten down to 30. We were on and off of the swimbaits again, and we managed a few, biggest went about three lbs.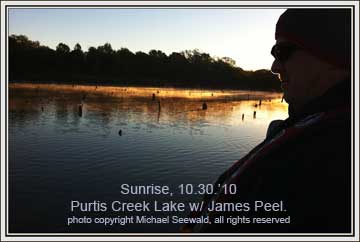 Click photo to enlarge
10.0.'10 Lake 'Purtis Creek sunrise, hoping for the big girls to eat.


Click photo to enlarge
Day two, a nice one on d/s watermelon/blk flake Trick worm.
We fished till about 2 p.m.., we both were tired and had a long drive ahead of us, I had to get to Dallas as I was going out the next morning on Lake Fork! YEAH!
10.31.'10 Sunday
Lake Fork w/ Jeff Campbell
I lost an 8 off S. Spook at boat, early morning, he got two on top.
So, I also had plans to fish with Jeff Campbell, a fisherman that lived in Forney, just east of Dallas by about a 1/2 hour, and is actually closer to Ray Hubbard than Fork, but he says the fishing is better at Fork, so be it. Met him at o-dark thirty at his house and we were off to get some monsters. He said the bite had been good on top, that's what I like to hear. Took us about 40 minutes to get there. Launched and under a bridge and over to one of his favorite shoreline spots in 5 minutes.
Five minutes later he had a nice 3 pounder he got off the top. I was throwing the Punker, it was stained water, about 2 to 6 foot deep, tree trunks were scattered all around. The place just absolutely looked fishy, and it is. We continued to work areas, points, and then would zoom to the next one that held the structure/shoreline he liked. I picked up and was working the Super Spook about an hour into it and it got slammed in about 10' of water, but as I'd kept working it I noticed it had missed the lure. Two seconds later, about 2 workings of the lure later (walk the dog movement) and another violent hit, this time she stuck. A few seconds later when, she emerged to throw it, we both saw how big she was. I screamed 'get the net' but I knew Jeff would have to dig it out of the compartments as he'd said to get it out right away was bad luck for him. I had her to the boat seconds later but slowed the landing to make sure a net was ready. That's all it took and she shook off right there- OUCH. My elusive 8 pounder this trip was getting more and more elusive.
We worked the area and came back later to the same spot, no more takers. We ended up with two for Jeff, zero for me. We went to a really cool looking island with a lot of grass around it, a place that holds fish Jeff said, but his plastics, and my frogs, got zippo. We finished up late afternoon, and I was VERY happy to have this lake be a notch on my belt.
As we parted I asked if he'd like to go out the next afternoon, to Ray Hubbard, and he said if he could scoot out early he would. COOL.
11.1.'10 Monday A.M.
Visit to downtown Dallas-
The Afterimage Gallery
I camped out in the van at a truck stop that night not far from Jeff's house, a bit further from Dallas by another 15 minutes, as I was trying to find a place to stay, hotel wise, that was affordable but decided to skip it.
The next day I headed over to Dallas, I wanted to meet, in person, someone I'd communicated with for years, both by phone and internet (I'd interviewed him years earlier on my internet radio program). He was in and we chatted.


Click photo to enlarge
Michael poses with long time friend Ben Breard, owner of The Afterimage
Gallery in the Quadrangle mall, specializing in photographic art, and located in downtown Dallas. afterimagegallery.com I asked him to pick a fav and we'd get our pic next to it.

11.1.'10 Monday P.M.
Lake Ray Hubbard
Lake Ray Hubbard Hybrid striper bass with Jeff Campbell


Click photo to enlarge
Was surprised that there was a video running in the men's room, What a country!



Click photos to enlarge
Couple of images from the Bass Pro Shops,
one in Grapevine and one in Garland, both in the DFW area.
11.2.'10 Monday
Visit uncle 'Bubba' Cherry.
11.3.'10 Monday
Depart Dallas / Ft. Worth, head to O.H. Ivie.
I spent the day of the second visiting with my uncle and his wife. We had a nice breakfast together before I continued my Texas fishing / photographic adventure.


Click photos to enlarge
Uncle Bubba poses with his oldest nephew, me.
I was researching some lakes that I might want to visit and O.H. Ivie came up on the Texas Fishing Boards as a lake that has been producing well. So I looked it up and it did not seem to be too far to get to as I headed back down south, so I headed there, and got there late at night. I slept in the van, as usual, a few miles from the lake, in front of some cow auctioneer place, it had folks coming and going late into the night.
11.4.'10 Monday
O.H. Ivie Lake
As usual, I was really excited to fish a new lake, and especially one that has a great reputation as a lunker producing lake.
Got up and worked the shore, after trying to find a back seat at the ramp, and pick the local tackle store employee for tips. I found out the way most fishermen get then here is with a spoon, deep water.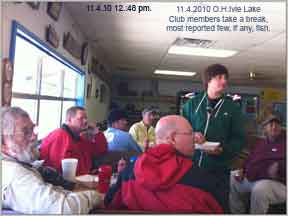 Click photo to enlarge / 11.4.'10 - 12:48 p.m.
This group all finished pre-fishing the lake and then
went to the dinner by the ramp for lucnh.
The bite had been real tough, and these gents reported just one or two for the entire group, and all agreed if they could go to Choke Canyon, my next destination, they'd leave immediately. BUT they were going to fish a tourney there in the next day or two, and could not. BUT not me, I was out of there, of to the next famous Texas Lake, and left in the afternoon- southbound (was going to make it back down to Falcon Lake, Lord willing, where the best bass fishing in the world may be).
11.5.'10 Tues.
Choke Canyon Reservoir
Got to Choke Canyon the night before. Crashed in my van over in the town, Three Rivers, that way I could get breakfast from a fast food joint there too. Headed over to Choke and tried to find a backseat for the morning. I had one lined up for the afternoon, with a certain Brett Coleman, TUL.
But I could not find any backseats, and made my way over to an area on the west part of the lake.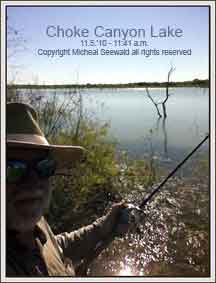 Click photos to enlarge
Tried my luck on topwater over on the west part of
the lake, called 'Yarbrough Lake' arm, off the 16. No luck, but it sure looked good.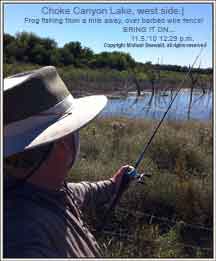 Click photos to enlarge
An hour later, as I was driving out of the are, I tried my luck on at this spot.
I had to cast over a barbed wire fence and about a mile
away, it also looked good. I've got a video of doing so, soon to post.
Later that afternoon I met up with Brett Coleman, he let me backseat on this beautiful 520Z Comanche Ranger this day, we fished till dark.
Brett's strength was the TR worm, but it was not working for him the way it usually does he said, no lunkers this day. I ended up with the bigger fish, getting two on the Spro popper frog around small islands over near the dam.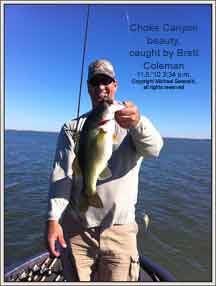 Click photos to enlarge
Brett got into the fish first, and it was a nice one on a crankbait.
Topwater action, a nice frog fish, covered in the grasses
he was hiding in, then fighting to get back into. Right side, grasses removed.


Click photo to enlarge
11.5.'10 5:30 p.m.
Grasses removed, throat view.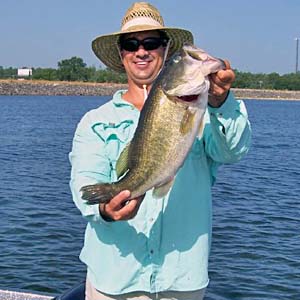 Nicer shot of Brett taken from a fish report I recently found online (from March 2011),
with a ten pounder of his. Congrats Brett.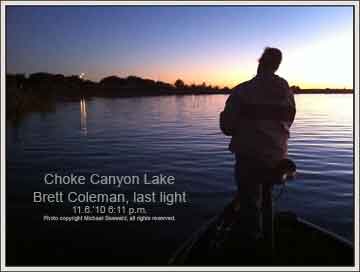 Click photo to enlarge 6:11 p.m..
Brett Coleman, working till there is no more light. What a life!



Click photo to enlarge / right side for 'super large'.
Brett Coleman, packing it up (Note, my 'milk crate' tackle box still on his back deck).
11.6.'10 Wed.
Choke Canyon Reservoir
Crashed in my van over at Three Rivers town again. Got up early, ate and got over to Callaham launch ramp before 7 a.m., hoping to bum a back seat. Nada, everyone had partners, so I kept fishing and checking whenever anyone drove up.


Click photo to enlarge
11.6.'10 6:52 a.m.
Broken sidewalk at ramp, wonder how this happened?

11.6.'10 7:01 a.m.
Left side, looked good, and was, as while waiting/hoping for a backseat I fished
around the ramp and got his nice chunk on my Spro popper frog there.


Click photo to enlarge
11.6.'10 8:05 a.m.
A little further into a cove by the ramp I came across this
warning, a picture is worth a thousand words. I kept my eye on the shore and
the water from this point on, not just the water!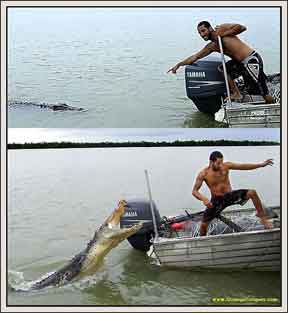 Click photo to enlarge
Did not think I'd have to worry too much, even
though the next day one got fairly close to the boat.
BUT I saw this photo of how then can strike out at you
like they were on land, check this guy out...
In the late morning I was blessed with getting a backseat on Simon Cobb's Ranger 482VS Comanche. He is a regular there, which is nice as they have spots that work, or have worked, in the past. We did hit some of his favorite spots but the C/R bite he usually gets was pretty much non-existant.



Click photo to enlarge / Right side for 'SUPER LARGE'
11.6.'10 9:09 a.m.
Just after launching and coming to pick me up in his Ranger 482VS Comanche.
Simon Cobb, active duty Army medic, was nice enough to show me around on
Choke Canyon Lake. The bite was tougher than he'd seen it, but we got on a few.


Click photo to enlarge
11.6.'10 10:16 a.m.
Most guys don't want a photo with a 'dink', but sometimes it's all we get, so I
ask them to pose anyways. That way I at least get a memory shot of my new friends.


Click photo to enlarge
I called a spot that I thought I'd get one at (had none for two hours at this point)
and WHAMMO, bass hit and I landed it. No skunky!

A little while later I got a nicer model on the frog. It netted me the bigger fish there over my new friends fish, it usually does. At dark, headed out to my favorite lake, Falcon. Got there pretty late at night, maybe 11 p.m. or so, and crashed in front of Robert's tackle store.
11.7, 8, 9.'10
Falcon Lake
The first day it was a fiasco! Perry, from the Abilene area (he has a Bass Cat boat, pretty nice) advertised he needed help on the TFF board (as I have most of the contacts on this trip), he was not getting into the fish he'd expected. I sent him a PM (private message) stating I was going to be there soon and could use a backseat. He said no problem, glad to have me.
One problem, he did not have a cell, and no phone in his hotel. He said he have breakfast at a certain restaurant, I went there early, he'd just left. I'd check the computer, and his message was he was leaving from the ramp when it warmed up, when I got there minutes later he was gone.
Later, he took a break, and was going out after lunch, missed him again after reading that online too, bummer.
So I fished the area by the church I attended and got one that went 3 1/2, which seemed to be the weight of the bass for next day too.



Click photos to enlarge
Tried to hook up with Perry the fist day there, but bad timing was the deal that day.
11.8.'10
The next morning we got together for sure, as he let me share his room. Plan was he wanted to fish the dam, he'd got into some smaller bass over there, throwing 5" flukes. I thought that was kinda a small bait personally, as after all, this was FALCON LAKE, king of all lakes for producing giant bass. It took us a while to get to that ramp, and we were there before the ranger to open the gate. Launched at o-dark-hundred.
First 15 minutes nada, me with the big bait, the Lunker Punker (6 3/4" wood bait, lands like a bowling ball hitting the water, lots of noise- like to wake up the big girls :/), and that's what I was after!
But as we got to the dam, and started following it out to deep water, I got three blowups in a row! The first produced one about 3 1/2 lbs, took photos, released the fish, and the very next cast one hit, making a lot of ruckus doing so, but missed- darn. So I cast again, and after a couple of tugs on the bait a very big explosion happened and a big fish was on, but after fighting her towards the boat for a couple of seconds I'd thought she threw the bait! But found out she'd just outrun faster than I could reel towards me, as I soon felt her still on, but now deep (12' foot or so, not that deep next to the dam). So I pulled hard, thinking she might be down in a tree, but the line broke immediately, indicating she went into rocks, not timber, BUMMER. Plus I lost my brand new Rainbow Trout pattern $50 lure.
My first bass this day came on the wooden Lunker Punker,
made by Black Dog Baits. Perry Pogue looks on at my
fish at sunrise, and is later caught looking back at sunset.


Click photo to enlarge
My second fish came on the red/white willow-leaf blade
spinnerbait, with red/white skirt and a Yamamoto
white single tail grub. It was also was a 3 1/2, TUL.


Click photo to enlarge
Got a third fish on the spinnerbait, a dink, but this shows a 'Sendero',
a road that was there before the lake got flooded, basically a
fish magnet. This one was on the other side of the launch ramp, headed
Perry took the lunch break to go order some Lunker Punkers online, he was excited about this bait now. We stopped at Robert's to see if he had one, he didn't. He did not have all that big of a Spook either, I don't think any actually.
Later we went to Robert's honey hole, although the water was up 5 or more feet since my time there two weeks ago or so now, and I could not find it exactly. Perry didn't believe me about it being a good spot, so I showed him the picture of Robert and his 8 pounder we caught there. He was still skeptical... oh well. We left just before dark, nada fish there.
11.9.'10
The next morning Perry decided against fishing the dam, which totally bummed me out as that had been the plan the night before, the bite there early morning was fantastic. I think his lack of having a big bait kept him from wanting to go there, so what can you do. And as a back-seater you are at the mercy of the boater, oh well. His plan was to fish just west of the ramp.
We went back there and tried our luck with spinner-baits and C/R and T/R worms, hardly got bumped. I'd fished this area previously too, with Terry Reynolds, so I knew it a little bit. We hit some new spots, but not much action, but finally Perry got a nice one, but lost it. We were in the far back, next to a row of big sunken trees (although 10' was still showing, 20' was underwater). The fish came and threw his spinnerbait a few minutes later, we heard the metal clanging when she did).
He decided not to go out in the afternoon, which was probably due to us hitting heads so much on spots and techniques. I decided to get a head start on the trip back to Amistad, so I headed out that afternoon.


Click photo to enlarge
On my way back to Amistad.
11.9.'10
Amistad Lake, again.
On the night of the 8th I checked into a Motel 6 in Del Rio (southern Texan town, on the border with Mexico), after getting my Subway sandwich.
I told Carlos I'd rent his boat for some art, as he'd loaned it to me before. He was hoping to join me, but couldn't. His plan was to go out in the afternoon with me, I was hoping so, I really like him, he has a big heart.
As Carlos said I could use his boat, I put a call out on TFF that I'd have a backseat open. J.C. called me and said his friend, and co-worker, Clem would love to join me. He know the lake well, and is a regular, cool. He could help me figure out the bite.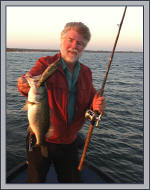 Click photo to enlarge
Lunker Punker fish, early morning bite with Clem on a boat Carlos loaned me.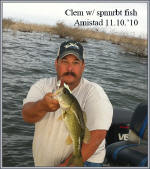 Click photo to enlarge
Clem gets into the action.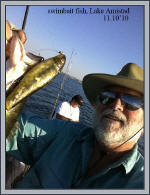 Click photo to enlarge
Later another Lunker Punker fish after Carlos traded places with Clem
and came out for the afternoon bite. I missed a big fish when
I turned to see how Carlos was doing on his trolling motor learning, darn.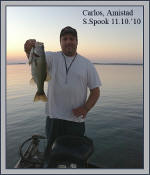 Click photo to enlarge
Carlos hit a nice 'buster fish' with the Super
Spook, netting this beauty at dusk.
11.10.'10
Ok, did pretty good in Amistad, got to borrow my friend Carlos' boat again on Wednesday, got two of three fish that hit the Lunker Punker landed, and one frog fish, then departed that night and drove a couple of hours for my return 22 hour trip back.

Click photo to enlarge
Copyright Michael Seewald, all rights reserved.
All day Thursday drove to New Mexico, after stopping just N. of New Mexico State Park, and then balance of way on Friday, having to stop for a couple of hours to replace my alternator, which went out and the battery would die from lack of re-charging.
It was one spectacular trip, and I praise the Lord for blessing me so much, that I can join to favorite pastimes (one a profession too) and do both at the same time, my photographic art, and my bass fishing. Again, what a country, and what a spectacular God!
:fishing: