Home Photographic Art Photo Classes Order/Prices Guestbook Contact Sponsorship Offerings About Seewald Picture Framing Misc/Links Portrait Pricing
pianoman photo by michael seewald is a very collectable piece of art, now at $100,000 for a limited edition photo, and going to $500,000 after this one sells. Stock Photographs of China, Asian art, collectable art, investments art, art of asia, expensive art. This is not only stock Chinese Photographs, China photos, photographs of China, corporate art, art for corporations and businesses for investment sake and photos of Xian, Shanghai, Hangzhou, Guilin, beijing, bajing, chino., pictures of, pictures., liverace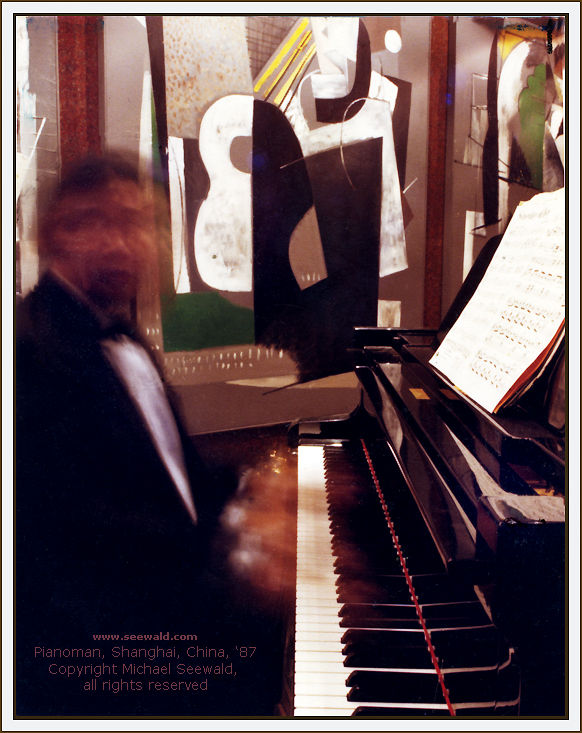 Pianoman, Shanghai, China, '87
Sponsored by Tom Spinelli
"When I first spied this scene, I was sick as a dog and the hotel was on fire!!!

Fever and 'bowel problems' from forgetting that 'thou shalt not use spigot water to brush thy teeth" the first night there had me running to the bathrooms every few minutes a week later, which is when I'd run across this scene. It was only my second adventure on my world wide travels and I had a lot to learn- and not only that, I was now lost in China trying to hook up with my 'tour group'.

I'd spent one week up in Ningbo, a small village of a million people, with Kay Fang, a friend/collector that owned a health food restaurant in Encinitas (before health food restaurants were much heard of). She had offered me a chance to go to China but the only problem was was that it would cost over a thousand dollars, about a thousand more than I had. Ningbo was north of Shanghai- six hours by slow boat (the way I got there) or two hours by hydroplane, the way I got back. Her godfather live there, and we visited for a week.
On my return, I was to meet up with my tour group, but I had a few hours to kill before I had to go to the airport to find them. I hung at the hotel I believed I was going to stay at and met a nice gentleman that spoke English down in the lobby. I got his name and contact number explaining I might return someday with a group of photographers and I would need an interpreter/guide for that trip.

I then went to the airport but was dismayed to find out they never showed up!!! NOW WHAT TO DO?

I'd pre-paid for the three week tour and had very little spending money (maybe $50). I started to call the hotels in the phone book from the airport, to see if I was listed, but in 1987 the phone system was pretty new and there was basically no pay phones anywhere on the streets, and the one I found played havoc on my ears. First, no one spoke English when they answered the phones, and I could barely hear them when they did speak. But the worst part was while waiting on hold (I think I was on hold, sometimes they may have hung up, I couldn't tell) while they went to find someone that did speak English, a loud clacking would occur like someone smacking two pieces of wood together, deafening in it's loudness. It was some sort of torture I'd figured!!!
I could see the phone system would not work in this manner, and as much as I hated to, I hired a taxi to drive me to the various 'tourist hotels; to see if my name was on the registry; the group was leaving the next day for Hangzhou and I HAD to be with them. After I basically hit all the hotels, six or seven, I stopped at one last one before heading back to the one I'd thought was mine. I saw a man playing a piano and thought, combined with the interesting background that re-iterated the piano and his clothing, would make a splendid image. I set up, took my light meter reading to set my exposure and took the shot (1 minute at f/32). I told him during the long exposure, "this will be music to my eyes". One of the few that spoke English, he smiled and kept playing.
The rest is history; I found my group due to answered prayer the next morning (the one guy I'd met in the whole city ended up being my actual guide- what a 'God-incident') and made a tremendously nice set of images.
This image was the last of the 25 chosen by 25 sponsors. Tom Spinelli, the sponsor, said when he picked it from the 10 choices left, "I can't believe nobody picked it". Well, there are so many good ones, all of them actually, as far as I'm concerned, that they ALL can't get picked. Funny thing is, it outsold all the others except one, which equaled it so far, The Three Graces ". MS


Click photo to see
image framed
Check out the old, and now current prices of the China series, below.
About the prices on the 1987
sponsored China originals.
Note: All of the above images, except the two 'new' ones directly above, are from Seewald's second 'sponsored' series, created back in 1987 and released in 1988. Back then, 16x20's (40x51cm) were the only size Seewald made available, in editions of only (10) each.
THUS, THESE IMAGES, editions wise, ARE VERY, VERY RARE.
When these sell out Michael will destroy the negative!!!
That is the reason the price increases with each sale.
Twenty five years ago, the 25 sponsors of these images invested, sight un-seen, at $350 per 16"x20". Now, all of them are $20,000 minimum in value. Some of them (2) are up to $100,000 in value, due to sales!! Seewald allows only 8 sponsors to pre-purchase images 'sight-unseen' these days! Prices for sponsoring increase every couple of years. To sponsor your own, like over 350 other collectors have now done, see: Sponsor Program, see: Pricing History)

Current pricing schedule.
(Last adjustment made in January, 2002)
Note: this schedule has been modified many times, increasing
dramatically over the decades, and will probably continue to do so!
Again, all of which are only available in the 16"x20" (40x51cm) size.

#1 - Sponsors image.
#2 - Seewald keeps this one.
#3 - Museums get this one.
#4 - $20,000 (The first available image to the public.)
#5 - $30,000 (Next available image to the public, etc.)
#6 - $40,000 " "
#7 - $50,000 " "
#8 - $100,000 Pianoman is priced here, seven of 10 now having sold.
#9 - $500,000 " "
#10 $1,000,000 " " and then negative destroyed.
We still have many in the series at the $20K 'low' price, but as each one sells it increases, with some having reached the $30K, $40K, $50K and two even the $100K prices now (Pianoman and The Three Graces).
**************************
Seewald's original 1987 pricing schedule:
Believe it or not, the following was the original price list schedule. It has been revised a few times as Michael has completed more trips, won more major international awards and watched photographic art come into 'it's own' over the past three decades.
#1 - Sponsors image.
#2 - Seewald keeps this one.
#3 - Museums get this one.
#4 - $600 (opening night release price).
#5 - $700
#6 - $800
#7 - $900
#8 - $1,000
#9 - $1,250
#10 -$1,500 and then negative destroyed.
"Everyone who knew the art business side of photography that I showed my 'proposed planned price increase chart' GASPED when they first saw it back in 1987." Michael continued, "heck, Ansel Adams had some of his images still selling at that price ($1,500, which was the low price on a lot of his art)!"



Go to see Seewald's other
$100,000 photograph, The Three Graces.

reset 12.19.09