Austria-2
Estonia-2
Hungary-5
Lithuania-3
Poland-3
Russia-3
corporate art, art for corporations and businesses,stock Photographs of Russia, Photos of Russia, Russian photographs, fotos of Russia, Estonia, Hungary,
Lithuania, Budapest, Eastern Europe, St. Petersburg, Leningrad, Moscow, Vilnius, Tallinn Estonia, talin,
tallen, rusia, Rusia, lithunia, lithwayna, buddapest, budda pest, Danube photographs, buda pest,
Hermitage State Museum, hermetage, hermetaje., pictures, picture
Michael Seewald's
Eastern Europe categories.
Austria, Estonia, Hungary,
Lithuania, Poland and Russia
< < < Links are on your left.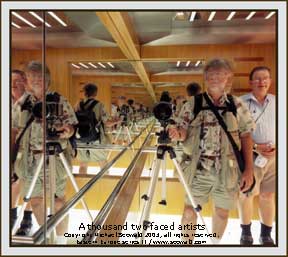 Click photo to enlarge.
A Thousand Two Faced Artists, 2003
From Michael Seewald's 'E. Europe II series'
Use of these images is not free, and is protected by domestic and international copyright law.
If you wish to license any of Michael's Seewald's photographs seen on this site, please fill out this form.
Any unauthorized usage of these images will be prosecuted to the full extent of the U.S. Copyright Law.

Back to main photo selections.

Reset 10.08
Photographs of Russia, Photos of Russia, Russian photographs, fotos of Russia, Estonia, Hungary,
Lithuania, Budapest, Eastern Europe, St. Petersburg, Leningrad, Moscow, Vilnius, Tallinn Estonia, talin,
tallen, rusia, Rusia, lithunia, lithwayna, buddapest, budda pest, Danube photographs, buda pest.
corporate art, art for corporations and businesses,