Our Tripod/Camera Lines
Hasselblad Digital Back
all about digital cameras and lenses. Yes, digital imaging, digital effects, digital workshops are now here. digital photograph by San Diego photographer Michael Seewald. Ansel Adams, Italy, Tuscany, Provence,

All about
digital cameras and lenses.
Sponsored by Michael Seewald's
Photographic Art Classes
Want to learn how to use your new digital camera?
Michael Seewald can show to how to
use a digital camera at his next photographic workshop.
Click here for more info on Seewald's classes.
6.2013
Update, Michael has gone digital! He bought a digital back for his Hasselblad this month.
To see samples of what this 60 mp camera back can do, go here: Leaf Aptus Digital Back.
10.2011
Well, Michael's 'main' camera is still a film one; Hasselblad, a 2-1/4" negative and four 'fixed' lenses. He does, however, also shoot a lot with his 35mm one too. Which one? Well, for the past few years it's been a Canon Digital Rebel XTi (because he already had a 35mm Canon Rebel FILM camera, and since the lenses are interchangeable with the digital cameras he stuck with it). BUT also, Canon had been a little better in the development of better digital cameras, maybe not so much now, mostly in how fast the 'auto-focus' functioned, but not so much no, Nikon and others all focus fast.
The prices have come down to where they are only twice that of a decent 'point and shoot', yet are 10 times more efficient at making superb images, worthy of enlarging to 16x20"s for nice wall art even.
The Canon XSi WAS actually newer (again, the XTi is what he now owns), but every few months a newer version come out -ie now there is a Canon Rebel T3/ aka 1100D (from DPreview.com 4/'11). Each has a few more bells and whistles and more mega pixels (kinda like a 'bigger negative', gives you more detail for enlarging so it still looks good!), but sometimes in the race to get a lower priced camera released a few options are removed.
"Tamron, which does not make cameras but does make non 'name brand' lenses for most cameras out there, is just shy of the quality of them, sometimes actually matching them, but at half the price! I use these too. I would suggest a 'one lens does all" type to make shooting fun, like a 18-270mm (wide angle to telephoto), all in one!
The 18-270 Tamron telephoto zoom
lens does it all, and is very lightweight. And although it is not as sharp as a fixed lens, or a 'name brand' lens, for the price (about 1/2 that of name brand), and the quality only about 15-20 less), is worth the trade off.
You can get one for a Canon or Nikon body.

Please help support us with the purchase of cameras and accessories,
at their lowest prices, by clicking on the Amazon ads. You pay
NO EXTRA, yet we get a small commission.
Thanks, Valerie Seewald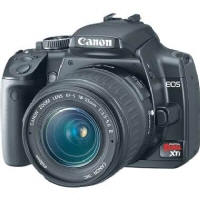 1.'08 "I have the older Canon EOS Rebel XTi. Many of my students have shown up to class with one, it's the bottom of the line of the 'more serious' cameras. The newer Canon's have more mega pixels, etc., -mainly you need to have interchangeable lens capability, the main factor that I'm happiest about (you need to have versatility, even in 'snap-shooting')."
Blessings, MS

The T3 is the latest/greatest 'entry level' interchangeable lens Canon camera.
The XSi is a good one to check out too.
Please click for purchases through our site,
we get a small commission but it costs you zippo more!

The best way to go, saving you money in the long run, is to get the body only, then the Tamron lens above, you'll be good to go.


But if you can't afford the body/Tamron lens combo at this time, get the body and 'kit lens', usually a 18-55mm. Add the Tamron telephoto zoom later.
If you prefer Nikon, like Michael did for decades,
here are some to consider.

body w/ kit lens right.
DP Review - Dec. 2010
Nikon entry level camera: Nikon 3100
Nikon has developed a habit of making very attractive entry-level DSLRs, which are rarely the best specified but cleverly designed so that they're easy and enjoyable to shoot with. The D3000 fitted this pattern perfectly, a gentle refresh of the D60 (which was itself a slightly updated D40X), it added ease-of-use features to make it a pleasant little camera to use, despite a specification that was beginning to look rather out-of-step with the rest of the market.

The D3000 sold well, despite its rather aged 10 megapixel sensor and lack of both live view and video. However, there's only so long that clever product design and feature integration can make up for a specification that looks dated. So with this in mind, Nikon has announced the D3100 - probably the biggest refresh of its entry-level offering since it really attacked the low end market with the original D40.

The D3100 is built around a 14.2 megapixel CMOS sensor, bringing not only live view but also Full HD video capture to Nikon's entry-level model for the first time. In fact, this made it the first Nikon DSLR to offer 1920x1080 movie recording. It can only record clips up to about ten minutes long (due to a 4Gb maximum file size limitation shared by all DSLRs), but this still counts as an impressive feature addition at this level.
Con't: Nikon entry level camera: Nikon 3100

Body only left side, body w/ kit lens right.
DP Review- April 2011
Nikon 5100 'mid-range' non-pro camera.
"...The arrival of the D5100 appears to signal the completion of Nikons refresh of its non-pro DSLR lineup. Its feature set and pricing mean that it sits very comfortably between the beginner-friendly D3100 and the high-end D7000 - it's clearly aimed to attract the attention of enthusiast photographers without cannibalizing sales of is sister models. A camera maker can judge the success of its market positioning by seeing how many people are wondering 'which model is right for me?' on discussion forums - and we think a D3100/D5100/D7000 progression would minimize such doubts. The official line is that the D90 maintains its position in the range, but both its naming and overlap with other models suggest that its role is now more one of historical interest than future significance.

The D5100 has a very similar 16.2MP CMOS sensor to the excellent one seen in the D7000 but, understandably, loses out on that camera's high-end build and feature-set. So there's no wireless flash control, magnesium alloy build or 39-point AF system but the underlying image quality is all but identical. ..."
Con't: Nikon 5100 'mid-range' non-pro camera
Want to learn how to use your new digital camera?
Michael Seewald can show to how to
use a digital camera at his next photographic workshop,
and also how to make great compositions that will
win you awards (something that many 'professionals'
are not too good at, you will be).
Click here for more info on Seewald's classes.
__________________
Seewald's photographic 'fun-shops'
proudly sponsored by:

Chrome Digital of San Diego

"They've printed hundreds of my enlargements over the decades, awesome company. Great copy work
for painters too, they shoot and give you a giant file at very reasonable prices."
MS
Pro Camera Repair, San Diego.
"Taken my cameras here for decades, always top notch work. I need my cameras
working properly in distant places, and I trust them to keep them in tip top shape."
MS
North Coast Photographic Services
"One of the last labs around that processes film, and they do mine now. I've had work done
here for decades. Serious technicians here, feel confident to get quality work done." MS

reset 10.'08
7.10 read 223
added all camera/lens info on 7.10.10