stock photographs of turkey, Turkey, stock photos of Istanbul Turkey, seewald, Valerie E. Wong Gallery, Seewald's, Michael
Seewald, Spain, Portugal, Barcelona, Madrid, Austurias, Luarca, spain, barcelona, Bilbao, San Sebastian,
turkey, covered market, photographia, arte, Del Mar Plaza, photographic art,
limited editon art, photos, photographs, fine art photo, seawald, Valerie E. Wong Gallery, Del Mar, Ansel Adams,
Edward Weston, Seewald's, Michael Seawald, Sewald, arte, photographia, Art Calendars,
photographic art calendars, limited editon art, photos, photographs, fine art photo, stock photo agency">
<title>stock istanbul turkey photos, stock photographs of istanbul, art of, photographing Turkey, stock turkish fotosTurkey, Istanbul, photographs of Turkey
Turkey
A small selection of images from
Michael Seewald's Turkish series.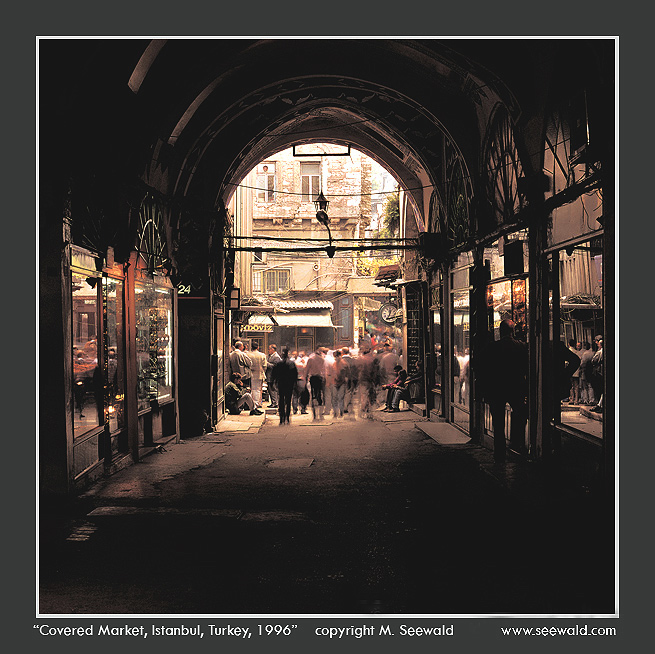 Copyright by Michael Seewald. All rights reserved.
Sponsored by Dan and Andrea Schreiber.
Covered Market, Istanbul, Turkey, 1996
When we (Valerie, my wife) first arrived in Istanbul around three in the morning the taxi driver had Valerie looking like the kid on 'Home Alone'. Her hands were covering her ears and her mouth was wide open as we took corners through empty, eerily lit streets at 40 miles per hour to our downtown hotel. I knew the kid knew his taxi like the back of his hand but the wife knew something too, that we would surly die. Before continuing through the country exploring and creating we worked the city. We heard of an interesting 'covered market' that was blocks wide and blocks long with only a four entrances- this was one of them.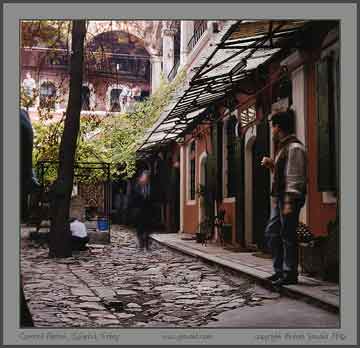 Show shine man sizing 'em up.
Covered Market, Istanbul, 1996
Many more images, all of Seewald quality, are
available for licensing for your publishing
needs or adding to your art collection; please inquire.
For 'stock photo usage' fill out this form.
Price schedule.
Sponsored (limited edition) and
un-sponsored images.

Notice: Sponsored images are 25% more than un-sponsored ones,
due to the fact they are very limited editions.

Artwork size unframed.
Artwork size
after framing*
Un-sponsored images.
Sponsored images.**
Edition Size
11"x14"
18"x21"
$750
$1,000
99
16"x20"
25"x29"
$2,250
$3,000
100
24"x30"
34"x40"
$3,750
$5,000
50
30"x40"
40"x50"
$7,500
$10,000
25
40"x50"
52"x62"
$15,000
$20,000
10
* Note: Artwork does not include framing.
**Starting prices, could be more if sales have been made.

Many more originals are available.
Please e-us if interested in collecting some.

Metric conversion for standard sizes.
11x14" (28x35cm)
13x13" (30.5x30.5)
16x20" (40x51cm)
24x30" (61x76cm)
30x40" (76x101cm)
40x50" (101x127cm)
Use of these images is not free,
and is protected by domestic and international copyright law.
No form of reproduction or manipulation, including copying or saving a digital file is permitted. Any unauthorized usage of these images will be prosecuted to the full extent of the U.S. Copyright Law.

re-set 1.31.07
stock photographs of turkey, Turkey, stock photos of Istanbul Turkey, seewald, Valerie E. Wong Gallery, Seewald's, Michael
Seewald, Spain, Portugal, Barcelona, Madrid, Austurias, Luarca, spain, barcelona, Bilbao, San Sebastian,
turkey, covered market, photographia, arte, Del Mar Plaza, photographic art,
limited editon art, photos, photographs, fine art photo, seawald, Valerie E. Wong Gallery, Del Mar, Ansel Adams,
Edward Weston, Seewald's, Michael Seawald, Sewald, arte, photographia, Art Calendars,
photographic art calendars, limited editon art, photos, photographs, fine art photo, stock photo agency">
<title>stock istanbul turkey photos, stock photographs of istanbul, art of, photographing Turkey, stock turkish fotos