content="ball heads for tripods, lightweight bogen and manfrotto tripods and ball heads, tripod cases, tripods, aluminum and carbon fiber tripods, quick release plates and fuji or kodak, nikon and canon, pentax,how to make good photographs, how to make a good tripod purchase decision,
north san diego county Seewald digital 35mm, medium and large format,
photography classes, photo workshops, field photographic workshops, photo , discoutn prices, discounted tripods,
workshops, photographic workshops, photo classes, photography classes, seewald,
Valerie E. Wong Gallery, Seewalds, Michael Seewald, photographia, arte, bogen, gitzo, tripods, how to purchase a tripod, good tripods, lightweight tripods and ball headsphoto results from our photography workshop here in north San Diego county, Encintas, Leucadia, Solana Beach, Del Mar, Carlsbad, Oceanside, Escondido, Rancho Sante fe, digital classes of photos printed digitally. Photograhy classes for beginners, los angelos, los angeles, orange county, california, riverside, san franciso, montery county, bay area, carmel, intermediate and advanced photographic art classes to learn photography. Outdoor classes on photography and photograph seminars in Encinitas California, Arizona and New Mexico. Tuscany and Provence photo classes are available., tripod advice, all about buying a good tripod, getting the most for your money, triippds by manfrotto and bogen, great tripods, discoutn priceds , good tripod advice, top 10 tripods.
All about tripods
and more importantly, the tripod 'head'.
"A light but sturdy tripod (with a 'ball' head and quick release plate)
is AS important than the camera itself." MS


Click on photo to enlarge.

Cefalu, Sicily, Italy, 2006 by Michael Seewald
Michael, on examining most
tripods brought to class by beginners, says:
"That may look like a tripod, and taste like a tripod,
but it's not a tripod... not a REAL tripod"

Why? Keep reading...
"The tripod, NEVER leave home without it. I use them for EVERY SINGLE PHOTO I MAKE (unless it is a birthday party or some other non-important event will I'lll never want to enlarge them bigger than 4"x6").
Yes, no matter what time of day it is you should always use one. ESPECIALLY if you will enlarge it over 8"x10", or even if you MIGHT enlarge it, because then you will have that ability to if you wish.
You especially need one for ALL low light situations, when the shooting is usually the best, which is early morning or later afternoon due to 'soft light', and for any good depth of field needs (D.o.F., depth of field is a term that refers to the amount of sharpness in your scene, from close to far in your scene. See above photo again, notice the rope is sharp in the foreground as well as buildings a mile away!). I carry the lightest yet sturdiest one I can find (and yet afford). Stow it in a tripod bag, over your shoulder, and forget about it until you need it.
So, take my advice and start using one all the time, like many of my students have started to do (testimony below). There are a couple of important considerations to take into account. Will you carry it around all day long on your two week trip through (add a place you want to go here) if it weighs as much as a bowling ball? I think not, at least not after day one, it will remain in the hotel room (heck, I did not use it that much yesterday anyway, so why take it with me today?- yeah right).
Well, you may just run across that perfect low-lit seascape AFTER sunset when street lights are coming on and requiring at least a 4 second exposure and THEN you will wish you had brought it (see above Seewald '4 second photo' AGAIN). Get a quick adjusting ball head with a 'quick release plate' and a lightweight, BUT STURDY tripod with a carrying bag. Stop missing those award winners that you 'could have made'." MS
A 'ball head'.
Get this style of 'head' on your tripod, it's called a 'ball head'. Notice the 'ball' in the middle of the socket? That makes for fast and easy position changes of the camera. Notice all of the handles you need to adjust this unit? No? Well, that's because there aren't a lot, only one; so with just one push of a lever the camera can be adjusted in an infinite array of directions and quickly locks back in place with the reverse turn of the same lever. NOW THAT'S COOL!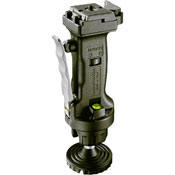 A 'pistol grip' style ball head.
This 'pistol grip' ball head is a bit of an overkill- heavy and larger than what most of you need. It's fine for wedding photographers with larger cameras, but not necessary for the average photographer. If you already have one of these, don't worry about it, they do work fine and are faster adjusting that the standard ball. And if you will shoot weddings, and want to get one, Michael can order one for you.

Bad tripod 'Heads'!!!
Hybrid photo/video 3-way head
(these are not worth a darn for anyone semi-serious, let alone serious)
.
Notice this has a minimum of adjustments (one long handle for front-to-back and one knob for tilt in ONE DIRECTION ONLY) and will diminish the fun by making it difficult to position the camera where you need to point it. DO YOU KNOW THAT SOME LEFT-RIGHT ADJUSTMENTS MUST BE MADE BY LOWERING THE TRIPOD LEGS? EGAD MAN, what good is that?!!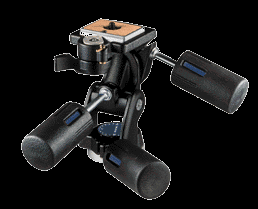 Three handled head,
another time waster and even costs more than a ball head
.. go figure. The good part, the quick release plate, is that square cork part, more info follows on that.
Almost as bad as the first one with no adjustment capability is this one with three different handles as you forget which one controls what. And if it's a lot of work to make adjustments you will not want to use it after a while- AND THAT'S NOT GOOD IS IT? 'Well, I'm not sure' you say, well believe Seewald, it's not. Not only that, what if you run across a scene that is changing fast and you only have seconds to capture it properly, no chance with trying to change all of these handles and then you miss the shot of a lifetime, double EGADS MAN!!
Notice: If you already have one of these two heads, see if it's removable and order the ball head style (see bottom of page for ball heads you can purchase separately) saving the money of a complete new system (unless the legs are either too rinky-dink or too heavy, then sell it all and start over).
Forget monopods, they are useless, unless you are shooting sports photography- but even then you could use a regular tripod with the legs closed right? And that way you could use it as a regular tripod too if needed (funny, 'if' needed? No, WHEN needed).
Forget tabletop ones as well. What a joke those are- will you bring a table everywhere with you so you can use it like this guy below? Ok then.


Click to enlarge.
Student carrying table.

Artist Carol Foster peeks out of her shop,
Spanish Village, Balboa Park.
Photo copyright/courtesy John Pohlman, class of 11.5-6.'05.
Here is one of the reasons to use a tripod. This image was taken at dusk, when most cameras would have had to use a flash to capture the scene. But then it would have looked totally different, and not as special. The lights inside would not have come out as much, and the art in front would have been underexposed as the flash does not shoot more than so many feet AND the scene would have looked 'flat' from being front lit by the flash anyways (if 'flat' does not make sense don't worry, you will learn all about light in this class).
***************
Michael,
Thanks to your teaching patience, and your actual-practice classes on composition and lighting that I took from you (Class of 11/2005), I am happy to say that three of my photos were accepted to exhibit at the Del Mar Fair this year, and two got an Honorable Mention in their particular categories!
I was excited when I found out, but you know after a bit of thought, it isn't the awards that I am excited about, but the fact that I am actually improving...
With kind regards,
John Pohlman,
Class of 11.5-6.'05
PS: The picture I took at the Spanish Village in Balboa Park that you have on your website was one of the photos selected. You encouraged me to enter it! Thanks.
***************
If you don't already have one we suggest you get a ball head that has a 'quick release' plate (most come with them)- so that it is 'pain free', not to mention very quick, to attach and un-attach the camera to the tripod in an instant. (One is pictured on the top of the ball head above- the square cork part). The 'plate' part screws onto the base of your camera and stays there. Then plop it onto the ball head and it locks itself on, and with a pull of a lever it releases it- fast, simple and efficient. Thus you no longer will have to screw your camera to the tripod every time to use it, or to take it off, ending hassles and time wasting actions!

Again, all of this info is to help you go get the right tripod. STILL, as 50% of our students brought the wrong kind after reading this page, mainly because the stores did not have the right ones, or wanted to 'over-sell', making more dinero, we decided to carry them, assuring you get the lightest and best overall ones!!!
*************** ***************
The following decent tripods can be rented from Michael (the same ones he suggests to purchase) at only $20 for the day.

Rental fees can be applied to the purchase
of a tripod if you decide on getting it too (90% do).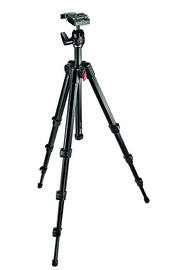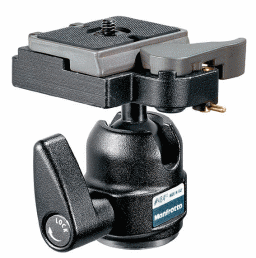 Manfrotto/Bogen 'medium digital tripod' 725b
with ball head and quick release plate.

A 35mm camera tripod, #725b,
with ball head and quick release.
A better tripod only because of the 'ball head' and it's overall light weight; good for most any regular 35mm camera or even the smaller medium-format cameras up to 7.7 lbs in weight. This will work perfect for 90% of you.
If you shoot more than one camera at a time, as Michael does, get an extra quick release plate and mount one to each of your cameras. Again, just leave them on for quick mounting and removing.
The unit pictured above is very sturdy for it's size, and very light (only 3.1 lbs.). And since it has the suggested ball head- and now includes a quick release and bag, it is the one Michael suggests you get.
Only 3.1 lbs total weight.
Total price for this package...
only $138.95.
725b Specifications
| | | | | | |
| --- | --- | --- | --- | --- | --- |
| Max load | Max height | Max height w/Column | Min height | Closed length | Weight |
| 7.7 lbs | 52 in | 64.6 in | 18.5 in | 19.7 in | 3.1 lbs |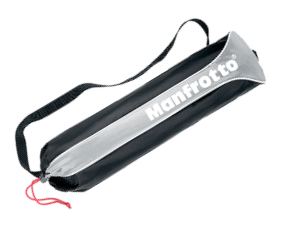 Carrying bag
The smallest and simplest model in the range, an unpadded rucksack-style bag for small tripods. It has a bungee cord top opening and adjustable straps, and comes in resistant nylon with printed Manfrotto logo.
Separate retail price $18.00 / free with a Seewald 715b or 725b tripod purchase.
*************** ***************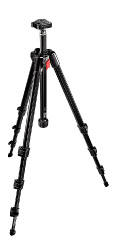 For smaller 'point and shoot' cameras. . .
Note: Michael's retail price for this smaller unit (715b) for 'point and shoot' cameras up to 3 lbs is only $119.95, and is very similar to the above unit and includes all of the features, quick-release and bag.

We can ship one to you or hold one to be picked up at the shop.
If shipping is needed, it's only $12 to anywhere in the U.S.. Calif. residents add 7.75%.
Max load
Max height
Max height w/Column
Min height
Closed length
Weight
2.68 lbs
(1.00 kg)
52.95 in
(134.5 cm)
64.76 in
(164.5 cm)
16.54 in
(42.0 cm)
17.72 in
(45.5 cm)
3.08 lbs (1.15 kg)
For those photographers
with slightly heavier cameras
(w/long lenses or medium format)
click here to see our Manfrotto product line:

*************** ***************
Any questions still?
Then give Michael a call or send an e-mail, he's more than happy to help you with any advice. 760.633.1351. If he is not in he'll return your call promptly.
Photo copyright Troy Garrow,
Class of 1.20-21.'07


Click to enlarge
Michael, Telling you that your class inspired me would be an understatement. I just got back from my trip to Kauai a couple of weeks ago with my post Seewald Fun-shop photographs. Living in manual mode and getting creative with aperture and shutter settings was a blast! Mentally thinking about the "rule of thirds" before pressing that shutter was a hoot too! My tripod became a trusted, ball-headed friend. My wife thought I was out of my mind sometimes. That's where I need to fill you in on a little story.
My wife and I were driving on the north Shore of Kauai one afternoon and we stopped by the Kilauea Lighthouse. I pulled out my camera and tripod to take a photo. The sky was clear, the mid-afternoon sun was bright and there was a big crowd of people huddled around the lighthouse. I turned to my wife and said this shot isn't even worth it so I put my camera gear away. We started walking back to the car and I noticed that the operating hours were from 10:00 to 4:00. I thought if I got there before 10:00 the crowd of folks wouldn't be messing up my shot. I also thought that with the lighthouse facing North/East it would be great light to catch it at sunrise. I looked at my wife and said, "The money shot is to take this picture at sunrise." So with the weather cooperating on February 14th, I left the hotel at 6:00 am (now you can see why my wife thought I was crazy) and drove 50-minutes to the lighthouse viewing area. I captured this image with an f/22 aperture and 2-second shutter speed. I played with it in Photoshop a bit, cropped it, and this is the end-product.
I'd love to enter it into the fair. What's your impression?

"Wow Troy, great job, you are on your way buddy. Thanks for the kind words and letting me publish them, along with your award winning image. Now I hope your wife no longer thinks you're Looney-tunes." MS
Still not sold on needing a tripod yet,
let alone a ball head?
That's ok, but here is a VERY good article on
why and how a tripod makes a big difference in your shooting-
with pics showing the difference in mid-day light even.
http://www.apogeephoto.com/aug2005/wtbird82005.shtml
_______________________________________
Seewald's photographic 'fun-shops'
proudly sponsored by:

Pro Camera Repair, San Diego.
SAVE 10% on first order, just mention 'Seewald workshop discount'

"Taken my cameras here for decades, always top notch work. I need my cameras
working properly in distant places, and I trust them to keep them in tip top shape." MS
Dolica Tripods
This line of carbon fiber and aluminum tripods won't break the bank.
We've got point and shoot tripods all the way up to heavy duty, large camera supports.
Metalography
SAVE 20% on first order, just mention 'Seewald workshop discount'
Custom photos on metal, Seewald gets his super large 'infused images' onto
hot metal, and the results? HOT! Located n Temecula Calif., just 45 min. north of downtown San Diego.<![if !supportLineBreakNewLine]>
<![endif]>(Up to 42"x62" in size)<![if !supportLineBreakNewLine]><![endif]>

reset 10.'08

ball heads for tripods, lightweight bogen and manfrotto tripods and ball heads, tripod cases, tripods, aluminum and carbon fiber tripods, quick release plates and fuji or kodak, nikon and canon, pentax,how to make good photographs, how to make a good tripod purchase decision, north san diego county Seewald digital 35mm, medium and large format, photography classes, photo workshops, field photographic workshops, photo workshops, photographic workshops, photo classes, photography classes, seewald, , Seewalds, Michael Seewald, photographia, arte, bogen, gitzo, tripods, how to purchase a tripod, good tripods, lightweight tripods and ball heads