'Sun' Diego 2 & 3 day
A-Z Classes
Three day
Held in beautiful San Diego California.
For digital and analog users alike.
Generally only 8 students per class!
2019

Three day, all day,
A to Z 'fun-shop' class
is Friday, Saturday and Sunday
January 4th, 5th and 6th
Only $695

Closed out
________________________
Three day, all day,
A to Z 'fun-shop' class
is Friday, Saturday and Sunday
Feb. 8th, 9th and 10th
Only $695
As of 1.5.2019 space still available
Can't make day three, Sunday?
Then class would be $495 instead, but most do.
Yes, day three is optional, but highly suggested by class
grads; it ties the whole class together and gives you an extra day of Michael's tutelage- more
assignments and lots more learning, plus repeating of things learned to help 'cement them in'!
BONUS CLASS* - All participants that take all three days receive a signed, Michael Seewald original photograph of choice, approx. 11x14 in size, valued at $750! WOW!
*For those paid in full and critique form sent in.
Framing available thru our frameshop at reduced prices

Can't make these dates, then sign up to be notified
regularly and get in BEFORE they sell out, as they often do; Guest book
________________________________
Short overview of our class.
Friday, Day One - First two thirds of the day, we go over 'how to see and think like a master artist'; most learned by Michael decades ago from his collegiate degree, but also from 'on the road real-time experience' gained from practicing the 'Michelangelo and Leonardo da Vinci' thought process of controlling the eye in the art!

It's all about the aesthetics of making great art, and covers a multitude of things to include, and exclude, to make award winners from your 'old images', and future ones too. (Yep, award winners, one of Michael's grads took 'Best of Show', San Diego International photo competition recently!!!).

Final third of day we critique our old art and turn some of them into winners from the thinking processes we just learned. This will be eye opening, especially to the advanced students.

Saturday, Day Two- 'How to shoot manually and capture stronger images' combined with including great compositional elements and thought. Combining aesthetics along with the technical. Michael gives us a series of assignments to get us going on his unique way of 'seeing', hard for beginners and advanced alike at first. An ALL NEW way of thinking/seeing, here we come.
San Diego / Balboa Park locations we shoot in:
1. The 'Spanish Village', a cornucopia of painted walkways and dozens of artist's studios in an old, rustic set of small white buildings made for the 1920 (or some such date) San Diego World's Fair. (As was the entire Park/Museum arrangement).
2. The Botanical Gardens and reflecting pools.

3. The Baroque architecture and arches of the Museums.
4. Miscellaneous other areas in Balboa Park.
Sunday, Day Three: In the morning we shoot in and around the grounds at Mission San Luis Rey in Oceanside. Lunch is at an Italian restaurant in Encinitas and then we create at a location at the Design Center in Solana Beach.
This third day covers a few more important concepts we have not had time to cover, how to control your depth of field, why it's important, how to make running water turn into smoke, and then an ice sculpture, and further cements the new thinking compositional processes. By the end of the day students report they now feel much more comfortable with everything overall and can now shoot in all manual settings with confidence and ease.
__________________

"..I thought he did a great job of explaining everything. He was very patient with us and didn't make us feel bad when we didn't know or understand things...."
Pamela Scholten, Class of 2.25-27.'11
Intermediate photographer, Anaheim, CA

_______________________
Not bad, a roadmap on how to create great art for the rest of your life! Basically, you get a college degree and 40 years of the important things Michael has gleaned, all for price of a cheap digital camera. And without compositional and depth creating knowledge, combined with the most important things/tools to know about your camera, you will get nowhere fast; no matter how great the camera!!!
___________________________
"I think I am light years ahead of where I would have been; I was learning by trial and error, and I didn't even know what I was looking for- now I have direction. I know the mechanics of good photos. I am seriously considering a new career in photography as a result of this class."

Bobby Brooks
"Oh my, we didn't expect this! Maybe we should add
another element to the 'class warning', huh?" MS/VS
_______________________________________________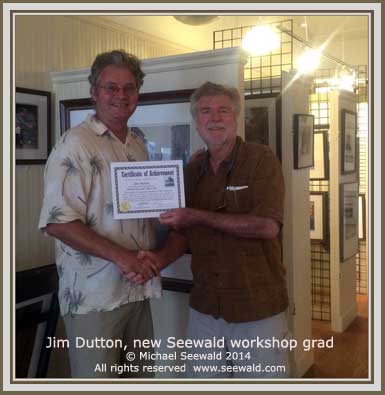 "The class condenses years of experience into an understandable 3 day class. You learn many essential techniques to take expert quality photos. For two of the days you are in the field practicing the techniques. By the end of the third day the student is already becoming comfortable with the protocol.

Many of the techniques are not mentioned in camera manuals nor "how to" photography books. The class changes the way the student approaches taking photographs. By the end of the class the quality of the student's photographs improve…."

James Dutton,
intermediate photographer,
Del Mar, Calif.
Class of Oct. 3-5th, 2014
_______________________
Great for painters too, they have a hard time figuring out
how to make strong images too, and many take this class.

Lynne Kumra, advanced painter level artist and grad of his 5.18.2018
workshop, espouses Michael Seewald's three 3 classes.
________________________

San Diego county class cancellation policy as of 1.1.'11. 14 or more days before class, a certificate good for a future class will be issued (good for one year). With less than 14 days before class: No refund nor certificate will be issued. Not responsible for medical emergencies. Class held rain or shine.

Yosemite, Carmel, Napa or other non-San Diego class cancellation policy as of 11.1.'11 60 or more days before class, a certificate good for a future class will be issued (good for one year). With less than 60 days before class: No refund nor certificate will be issued. Not responsible for medical emergencies. Class held rain or shine. Lots of great art has been made during inclement weather.