Michael Seewald had been using Chrome for many, many years now (and now Chrome Digital). The had processed thousands of rolls film, both 35mm and 120mm, both negative and transparency (although they no longer do so - he now get them processed at North Coast Photographic Services, another sponsor, as he still shoots film).
Chrome has also printed hundreds of his award winning images, from 11x14's to his extra large 40x50" images, and continues to do so, always on time, always perfect, or immediate re-makes that made them be (which wasn't needed very often).
As Michael says, "To find this type of lab with this type of service does not happen very often, I, after decades of being in the business, should know. Undoubtedly, they will continue to be my lab of choice, and will probably remain to be, as long as I am alive and as long as they are in business, which Lord willing, will be many more decades to come! "
_____________________________
From a testimonial Michael recently sent back in 2009:
"Dear Dennis, Tim and Sam, I wanted to thank you guys for decades of great service. So many of my collectors have been blessed with what you have done, first for me, and then for them, in perfecting the images to my standards (which are very high and painstaking, I know and YOU know) with the end result being beautifully framed art sold to them to hang in their homes for years of enjoyment, bravo!
I'm proud to have my name on them, and you should be proud to have perfected so many now (hundreds). May you long stay in business, MS"

_____________________________
About the 'original Chrome'
from their founders website.
CHROME was a leader in E-6 processing in San Diego since 1982. In 1988 the company opened CHROME DIGITAL SERVICES to provide a full-range of support services in the emerging world of digital imagery. In an industry of continually evolving technology, CHROME regularly upgrades to the newest, most powerful equipment available
The founding partners, three photographers who could not find satisfactory film processing through available vendors, credit the company's steady growth to a consistent delivery of outstanding quality, efficient turnaround, talented technicians and up-to-the-minute available technology.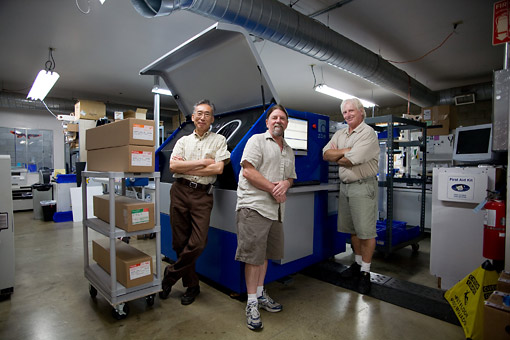 Chrome's original founding partners,
Sam Nakamura, Dennis Reiter, and Tim Bee.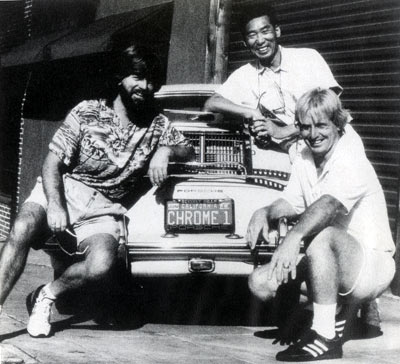 Again, the original founders, Dennis, Sam and Tim, 1989
_____________________________
Now, the 'new owners', and folks that have worked here for many years, Shad Bee (son of previous owner Tim), James and Kathy, will take care of all your printing needs.
CHROME DIGITAL
digital prints and enlargements
fine art giclée prints
film and reflective scanning
flat art imaging
transparency duplication
slides from digital files
photo retouching and restoration
poster printing and layout
CHROME has a well-earned reputation for superior quality products and personal service. Our knowledgeable staff has years of experience and is committed to working with you to get the results you want in your processing, printing, scanning and more.
_____________________________
Our superior photo printing capabilities start with state-of-the-art equipment.

ChromeRA prints on Fuji Crystal Archive paper
The Chromira photo printer produces beautiful prints up to 30 inches on the shorter dimension. Available in glossy, matte, lustre and the ultra-glossy Fujiflex finishes. Fujiflex Crystal Archive printing material produces rich image color, pure whites, and razor-sharp letters with exceptional surface gloss and flatness.


HP Designjet for giclee and fine art printing
The 12-ink Designjet prints beautiful color and true black & white prints on canvas, watercolor and photo paper.