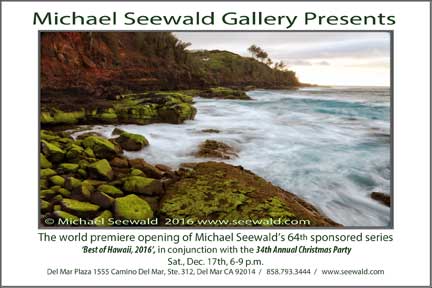 Click image to enlarge
Opening night invitation.



Daybook of Michael Seewald's
"Best of Hawaii" trip/series
Feb. 2nd, 2016
Well, I'm at 55,000 feet, an hour out of the Maui airport. Trip number 64 or 65, lost count. I've got one sponsor so far, Tom and Virginia Spinelli. Tom sponsored three trip back in the 80's. Iceland '87, China '88, and Kauai '88. I'm flying Alaska Air, $520 total round trip. Just noticed they fly to San Diego from each of the four larger islands. If I'd known that I might have returned from either Kauai, or the Big Island, the other two I hope to hit this trip. I'll be three weeks.
Worked until 2.30 a.m. last night getting all my ducks in a row. Don't want the lovely wife, Valerie, to have to do too many things for me/gallery/frameshop/photo classes if she doesn't have to since she works full time as a professional nanny.
Was blessed with Chris Castle, a new friend from Kenos Restaurant men's fellowship (mostly men, sometimes a lady or two) giving me a ride to the airport. He came by a little earlier than planned, 5.30 a.m., but that worked out. Got to the airport and through security and to the gate with one hour to spare, don't think I've ever been that early.
Did not do much planning until about three days ago, started to look for lodging. Most everything affordable (one place, at about $150 per night, on up) was booked. Valerie asked about youth hostels, and although one had come up I did not search under that phrase, and I got blessed with one that was only $90 for a private room, near the airport, centrally located on the island. Perfect, even though still expensive for my usual payment for a place. I'd forgot how expensive it was, having not been here in years, and it reminded me I had to sleep in the rental car on the first few trips over, if I didn't get a trade for a condo that is, which I did, or stay at friends, which we (Valerie came with me on a couple) also.

So I've got a room for 7 nights, but no rental car yet. I've done better just walking up and getting deals over internet reservations, so hopefully that will still be the best way.
I napped a couple of hours on the plane, got blessed with nobody in my three seat row, so I could lay down. Plane only half full, TUL!
I've never written a day journal on the airplane before, but I had the MacBook Pro in my camera bag so what the heck. I had used a tape recorder for many but that does not get put in print, not yet anyways, so my last trip I went back to hard copy. This will be best of both worlds, as it's already transcribed.
A big blessing on this trip is I've got my new 100-400 Canon L USM II lens, and a borrowed 10-22 from Chris Castled, and with the 24-105 I've already got I've got all the based covered. I can't wait to get to work with all this. It's only me second trip using the new 35mm Canon 5DSr, 50MP. The zoom feature on these sharp lenses, for zooms, is what makes this so exciting. It's so much easier to work. The one down side to my new 100-400 is the weight, it's getting back up there again, but what the heck, it's got image stabilization (they all do), which is not really important as I shoot tripod, but the zoom feature itself lets me changes compositions on the fly, as a subject may get closer, or further, etc..
Pilot just announced 15 minutes till landing. I've only packed lightweight long sleeve shirts and long pants, the kind I use for fishing in the summer back home, to keep the sun from making my skin cancers worse. Did bring one pair of shorts and two short sleeve shirts, maybe for early morning and later afternoons. Also a pair of sandals.
I'll update Facebook as usual, sometimes from my iPhone, and sometimes from the hotel at the end of the night, or early morning, like I did in Italy three months back. Can easily cut and paste from this actually. Will add to my website after the trip, I don't have the program to do that on this computer- usually Frontpage 98 on the home computer, a program I've used for 15 years now.
Ok, announcement to put away electronics. Bye.

Feb. 4th, Thursday, 9 p.m..
Six hour flight was not bad. The heat and humidity was noticeable right away after landing. Not bad, but noticeable. I went and got the luggage then parked myself on a wall by the car rental agencies as the prices for each was astronomical, as in $89 per day. Pretty much all SUV's too. Went online and did some research, was not looking good, but one website listed other websites that could get you good deals. I called one and it was $415, the same as online prices, twice as good as walk up price, but not all that good either. Second one was great, got me a Hertz compact for only $215, included the very high tax, and unlimited mileage. After getting the car, which was upgraded to mid-size as no compacts around, cool, I went to Wailuku to check into my youth hostel room. Bad news, they overbooked. My heart sank as all rooms on the island start at $250 or so per night. Then he said they had two options, one I could stay in the back office building, in a room, and the other in a dorm, and the first two nights would be free, with the private room available the second night. So I went for it. Also, I paid for one to reserve, and then four more at the window, for a total of 5 paid and two free. Met some nice folks, one guy just now from Mexico, but lives in La Jolla.
So, after getting the car and checking in I drove to Paia, and worked there and HoOkipa. BIG WAVES, as in 12' average. Great light. Wed., I was up at 8, to bed at midnight, dead tired, and slept so-so. Ate free pancakes, made by a 'hosteller', and hit HoOkipa again, and got great shots. Sun was from the side. Found my new 100-400 does not like 'cheap polarizer's', as it was not able to focus at all. Put a damper on things. Had heard about 'Jaws' beach the day before, THE beach of beaches for waves, a few more miles west, towards Hana. So I found it in the afternoon after going back to Costco first for lunch. (Had dinner there the night before, and got a case of waters and thing of mixed nuts).
Walked down to beach at Jaws, at about 4, it was only 18', so nobody out. Usually It's 30 ' someone said, and they go out on jet skies. It's about 2 miles out on a dirt road. The walks down, very steep and big cliffs, was ok. I was the only one down there. Finished at dark, about 6.30, and hit Makawao and had a great mahi-mahi dinner at Stopwatch bar and grill.
Got back to the hostel about 10, and then went online as the WiFi worked, unlike right now. I'm in the reception area as I kept trying to get on, re-booting, etc..
Researched rooms and found Kauai to be bad news, youth hostel wise, but the Big Island had an affordable hotel in Captain Cook. Manago's, I think Valerie and I stayed there years ago. The slept in my private room - it has a ceiling fan, which got it too cold and had to use the blanket. Up at 7 a.m., and went online to check mail, etc.. Had breakfast at an Asian place next door, rice, eggs and bacon for $4. Was ok. Called Manago, reserved a week, then ordered two polarizers and two UV filters online from to different companies. One set I sent to Big Island, and one paid extra so I'd get it here ASAP. The 24-105 works with it no problem.
After taking care of all this I headed out to Hana, gassed up at Costco, only $2.30 whereas everywhere else is $3.20. Got a J.I.Box egg sandwich and drove to Keanea Penn.. stopping and working three spots, one curve with tree roots along Hwy, and two bridges. Forgot my camera bag at the first spot, and found out at Keanea, and drove back crazy fast to get it before someone found it. Thank God it was there, a bit hidden on the other side of a guardrail. Scary. Went back to Keanae and made three or four compositions. Finished at dark. Drove back in one hour, pretty good. Stopped at Costco on way back and got dinner. It's now 10.15, took an hour to catch up, but chatted with the Mexican guy quite a bit. Leon.
Oh, called Valerie and she'll mail me my other quick release so I can put it on the large zoom, it takes one mid-way up to balance it. It's a hassle to keep changing it from the camera to the lens. She'll mail it to Hawaii.
Friday, Feb. 5th, am
Up at 7 a.m., showered and ready for breakfast. Internet is working again. Called video store to ck on Pol.. (was told shipping info to be sent, they did not get it out yet!). Off to Hana again.
Sat. night, Feb. 6th 11:15. Just finished watching a Netflix movie, what a blessing, internet and paid movies that I can watch here in Hawaii.
Did well today, working Iao Valley, but first update from yesterday. Sunny and waves were to be smaller. First, went to a Wailuku Coffee Company downtown N. Market St., which we are down from by three blocks, hoping to get breakfast. Great coffee, but no breakfast. Started down Mill St., and found 'Tasty Crust Rest.' a couple of blocks down. I'd read ok reports on Yelp so stopped in. Was ok, got eggs, bacon and hash browns, with another coffee, for about $10. Afterwards went back to hostel and picked up the re-charged battery, and grabbed a pancake that was offered, was still a bit hungry.
Then hit J.I.Box to get a bagged lunch, a Breakfast Sandwich Supreme, then headed to Hana, and started working more bridges once in new territory (past Keanae). Got to Hana, about 1.30 or so, stopped for the sandwich on the main hwy, by the police station, and checked in with the lovely bride, now that I had reception. Thewent down to the pier, had a coffee and rested at a picnic table, light sprinkles would fall. Lots of memories came back, as has been every day. Remembered the police asking me to leave, no sleeping at the pier in a rental car- said 'got sleep behind the police station, it's safe'. Yeah, like they would not arrest me for doing so after he made his rounds- I drove tired as heck way down the hwy and found a spot. And my polarizer miracle, where I'd dropped in on my foot just as a car was going by it, just three feet away, and the tire hit it just as it rolled under it and shot it right back at me and landed at my feet, UNSCATHED. That could not be reproduced on purpose in a million years. And again, a polarizer story that did not end well, where I'd dropped a hand held plastic one in a stream I was working and could not find it anywhere. Looked for ½ hour, oh well.
Worked the black sand beach just south of Hana, where I made Marc Slott's image in '89. Was nice soft light, on and off, with ok waves. Don't feel I nailed it. Worked it for an hour or so. Then went to seven sacred pools, about 5 miles further down the hwy. They now charge as it's a National Park- oh well, skipped that. Drove a couple of miles past that (Hana if furthest east) but turned back. Almost thought about driving all the way around, but rental companies frown on that. That did not stop me in '89, when I drove all the way around a couple of times.
Noticed a nice point on way back in Hana, and drove to a street nearby and asked two ladies how to get to the beach (locked property between street and beach), and they pointed me to a trail. Walked it and worked the first bay, cool. Got Haleakala in the background, reminding me of the best seller from '89. Walked along the steep trail and found a nice red sand beach. Thought how would one ever know about this gem, then realized I'd shot this spot two back in '89! Wow. Got some real award winners at 6 p.m., real long exposures, movement to die for, TUL. Got back to car at dark, about 6.50. Got to Keanae Peninsula at 7.30, and Paia by 8.30. All because of no traffic to speak of, and I could straighten out the road. I think and hour and forty minutes is a record. The hostel offered free beer and hamburgers, but the keg was gone before I arrived. Got two cheese burgers, tasty. Ms Ozzie was cooking, the young lady I found out that made my week with the offer of two free nights for the overbooking.
Played pool, lost to Bill finally, was undefeated two night prior in 5 games, and then called it a night about 11p.m.. Was dead tired from hiking and getting up early.
Now for today. Slept well, this time on top of the sheets most of the night. (Tonight I turned the ceiling fan higher again). Up at 7.30 and showered with so-so hot water.
(Wow, as I type this, at midnight, the rain has been in deluge mode for the past 15 minutes).

Got one pancake and then went and had a coffee and hung out with the guys for about an hour. Plan was to go to Iao Valley, just a few minutes drive from the hostel. Heard you could park just outside the charged lot for free, just a few feet from the charge booth, so I did. In not time I saw a spot I could walk to to a stream and I made some pretty good time exposures. About an hour and a half later, maybe two hours, I thought I was done. But decided to walk up the trail and I'm glad I did. In the next two hours I got two great shots. The down side, I'd slipped earlier in the shoot and got one sandal and sock soaked. That worked out as it opened my being able to get around the streams better. The dangerous part was the rocks were moss covered, and slippery as heck. I did ok, but when I worked a larger river, I stepped on what I thought was a small boulder but it was big and I slipped into a deeper pool, losing my balance and putting my right knee down to stop my fall into the water, at the same time keeping my hand on the top of the tripod and trying to keep the camera from going in. The water got just to the bottom of the camera, but stayed dry thanks to my fast reaction- whew. My shirt, right side, was wet up to my neck. The cell phone did not get wet, in the right upper pocket, but I do have a waterproof case- just don't want to make sure it works. The infrared remote was in that pocket too, got damp but worked, TUL! Kept working as I'd found a great spot to shoot downriver, most, including me, shoot upriver. It sprinkled a bit, and a lot of locals kept getting into the river ruining my shots- took patience.
Finished around 4.30, and went to Burger King, was starved and tired from fighting the currents I stood in. Got a beer to go with it from a marked and went to the hostel, changed into dry clothes, plugged the camera batteries in, downloaded the photos to an external hard drive (from Italy trip w/ Italy back uu on it too).
Walked to Asian restaurant (where I'd eaten breakfast two days ago) at 7 and had three meat bbq with rice and mac. salad for $11. It was filling and I brought some steak home.
My buddy Kelly Magin asked where I was attending church a couple of days back, and just found out he'd sent me an address for a Calvary Chapel in Lahaina. I think I might have gone to it way back when -an 8 and 10.30 a.m. service, will hit the 10.30. 12.15 now, very tired and would have hit the sack already if not for this update. (Still pouring, feel sorry for the tent people just below my second story window. Sure cools the place down, I can turn down the fan now.
Super bowl 50 Sunday. 10 p.m.
Up at 8 and made my pancakes breakfast w/ coffee. Headed to Costco for gas, then to Calvary Chapel Westside, in Lahaina (had to thank God for all my blessings). Pastor Steve was still presiding, I went to his 'church on the beach' back in '89. Annie Meadow's had played, and Steve said she'd only done that twice. As of eight years ago, they have a building, and since it was stormy it was held there, otherwise the 10.30 is always at the beach, and the 8 at the church.
Went back to Costco, got pizza for lunch and a provolone sandwich to go for dinner, then was off for a 3 to 4 hour drive to Hana. With Super bowl not many tourists on the road, sweet. 'Jaws beach' exit, with the rains, looked pretty bad, being dirt. Made one really nice image just past there, on old lichen covered fence with some interesting flowers surrounding it. Overcast and sprinkling- made for great light all afternoon. When I got to Hana I had Internet reception, and did a search to find the best beaches, and found one I had not know about. Hit the old store and asked about my friends Sonny and Francine, whom I saw the last trip over in '96, and met in '89. They were out so I went to the Waianapanapa State Park, near the airport, and killed 'em. Such nice volcanic rocks everywhere. Long exposures, and finished about 6:50, dark. Rangers were looking for me, they wanted to leave and I was last one there. Went back to see if my friends had got back, nope, so I left a note.
Made the trip back, to Paia, in a record 1 hour and 20 minutes, beating the old record from two days ago by 20 minutes (of course, leaving Hana at 7 p.m, way after the tourists have headed back, so no slow pokes to slow me down). Used half a tank of gas. Got back to the hostel nine, parked down the road as usual, and started checking messages, uploading snaps from the iPhone, adjusting them and posting them on Facebook, with a message I'd gone to church to praise God for my blessings. Time for a Netflix movie. T.U.L.
Monday, 2/8
9:30 a.m..
Sunny, warming.
Up at 7, lounged around and showered by 8. Went 'downtown' to the Wailuku Coffee Company after one sip of the hostel coffee, and wanted a bagel w/ cream cheese, avo and crispy bacon anyways (saw a hostel couple get it a few days back and wanted one ever since. Not cheap, nothing is here, so $12 for that w/ large coffee. Checked w/ Ms Ozzie and she confirmed a 10-10.30 mail delivery so hanging around now in the room until then. Watched Netflix 'Sleepwalk with me', pretty good comedy, last night. Had to close both my windows and turn off fan, but still cold under sheet and thin blanket, had to put a long sleeve shirt on. Guess that cold front that came in not only brings rain.
Checked with Laura Crawford, the artist I let show at the gallery, she reported no deliveries from Dolica. Had tripods and filters ordered, but no returned info on ship dates so don't even know if they did. Larson Juhl sent my frame from FL., Valerie brought in in from outside the door at the frameshop, so the Ehret jobs can get done and sent out. They said they might sponsor (said they love Kauai) this trip once they see the two pieces of art they sponsored from my last trip, 'The Best of Italy'.
Tuesday, February 9, 2016 Transfer to Big Island day.
8 a.m..
Just grabbed a hot coffee and already showered and uploaded photos to the FB page, one of Makawao town entrance sign and one of Bubba Gump restaurant in Lahaina. Got the filters at 10.30, both of them, TUL, and then drove a Mexican guy to Iao Valley, he missed the group van. Went to HoOkipa, after first trying out the new Cir. Pol. filter in the Wal-Mart parking lot, I had to get more sunscreen and mosquito repellant. It worked great. Got some nice wave shots, they were 12-14', and then got lunch 'at the last market in town before Hana', and took a short nap in the shade nearby. Went to Makawao town and walked around, first camera less, then again with it as the light got softer.
My friends in Hana got my note and called me, we caught up, first with Francis, then with Sonny. They were at their daughters for the weekend. They are both retired, but Sonny still plays at the Hotel and she down babysitting to help make ends meet. They have two granddaughters, one starting college in Oregon, so they went there to check it out.
Hit Costco for dinner, then drove to Lahaina, to see 'what's up'. Hit quite a few galleries, to get ideas and see how sales were, etc.. Left there about 10 pm and got back to Hostel by 10.40. Took care of business and watched a lousy movie, turning it off early, hitting the sack about 1 a.m..
Valerie wrote, one of our fish died, yellow tang, and two checks came in. She can't sign them so they'll have to wait for me to get back.
9.30 p.m..

Worked Paia a bit before heading to airport. Got there a bit too early, had to wait about two hours, never been that early before. Took Mokulele Airlines. Driver, Mark Perry from Hana, said Mokulele mean airline. So in reality it's Airline airlines!
Plane held 10 folks, I had the back seat, which was for two, but only 9 folks were on it. Took snaps of Hana Coast w/ iPhone and good camera. Nice shots of Haleakala w/ clouds. Arrived at 3 p.m., called Enterprise for p/u and got the same car I had in Maui, a Nissan Versa. Nice little car, a 'compact', a step up from economy ($270 for the week, including taxes). The online rental company got me that one for $7 more over the economy price, cool. Traffic was worse than Paia, miles of slow moving traffic, all the way to the airport. Took a short cut that ended up going to my favorite town on the island, Holualoa. First stopped at Kona Coffee plantation, UCC, and had pea berry coffee and two other types for free. Then visited the galleries, they were just closing, it was 5. Then saw some possibilities after getting a 'Tuesday Taco Special', 3 'street tacos' for $6. Small but tasty, got a Corona to go with it at the market across the street. Then shot an only post office set of po boxes, on the outside of the old bldg., first made in 1900! Then a great set of bamboo, and the owner of Holualoa Inn said she had a nice 'black bamboo' set in the back of the place. I told her I'd check it out some other time, it was 6.40 at the point and light was about gone. Could not see to focus at that point.
Made it to my hotel at 7:10. Checked in with Cheryl, and she gave me the two packages sent to me; one from Valerie and one from a camera store. Cool, all set with quick release for the long lens and two more filters of higher quality for my 24-105 lens. Daniel from Dolica got back with me, on the tracking number, and found it'd (tripod and filter order for me to sell) been delivered on the 2nd. Called Fred at the bike shop next door, he has it, T.U.L..
Grabbed a burger at hotel dinning room, it was closing at 7.30, and had a coffee too. Ran to 'Choice Mart' and got a bottle of Barefoot Merlot for $5, not back for Hawaii. Have a glass per night, and now going to see a Netflix movie. T.U.L for giving me this wonderful day to create and explore, and for blessing me with a great room and rental car. WiFi works great, and the room even has a desk that I type this on. (No TV, or phone, but don't need either). It's maybe even the very one I stayed in 20 years ago- same hotel for sure, and same level, the lower price floor.
Thursday, February 11th 2016
9:15 a.m.
Yesterday, started with breakfast down the street, the hotels closed at 9, I'd just missed it. So ate at Patz Pies, meaning pizza pies, and it was good. A little pricey buy not like the Coffee Shack, which I opted out of when I saw them. Went to Kailua-Kona to look up my old friend Robert Thomas. Parked at Coconut Grove mall and found he's still painting on the main street. He gave his gallery to his daughter Liz, who is also busy with real estate. She reps her husband's work too, which looks like Robert's and is as good.
Had first walked around the town a bit, and met a photographer that owns a gallery with a friend by his. We chatted about business for quite some time, said maybe we could exchange art to cross-promote. The old Jolly Roger is gone, and it's now Bubba Gump. When I found Robert he was sitting outside painting, like old times, in front of folks walking by. One Asian couple stared for a while, and I introduced Robert as a world famous master, and he took over from there and his daughter closed the deal on the one he was finishing up. Cool $6K. Afterwards I got back to the car and it had a $40 fine for parking more than two hours. Bummer, if I'd seen a notice I'd of been back. Looked around and saw a small sign, nothing as you drive in. Private company writes you up, must make a fortune.
Drove to north shore and down a terrible road to get to Kapaau shoreline. Made some great image, so well worth the hassle.
Then headed back, 1.5 hours to home. Called Valerie but she's upset, thinks I should not have let the landlord cash the rent ck for the frameshop (Bill Kressin, aged 87, called to let me know he'd been sick, and that his wife Marian had passed the month before, was so sad to hear that). But we have monies to ring up from my Yosemite class, and that will help. Hopefully she relaxes about it, the Lord always supplies.
On way back I decided to stop at Kings, and then Queens, malls at Waikoloa area. Met a Francine Shannon, director of Genesis Galleries, and saw they repped my buddy Wade Koniakowsky and acquaintance Daryl Millard'. Daryl used to show on Cedros in Solana Beach. She used to work for Peter Lik, and also Thomas Kincaide.
Met CJ Kale at his Lava Light Photo Gallery at Queen's mall, he said that one was newer. He's famous for his lava art. He gave me a run down on why metal was better than acrylic for printing on. Acrylic scratch's but he used a paper town on metal and no scratches. He prints to 4x8', and they are stunning. He had none framed, and is doing well. Finished socializing at 9.30, and grabbed a deli sandwich and a brewsky at a very upscale market there with reasonable prices. Got back to motel about 11, and hit the sack by 11.30, too tired for a movie. Up at 7.30 and showered and breakfasted and posted FB update photos, ready to be blessed another day. T.U.L.
February 12th 2016
8:45 p.m..
Just returned from South Point. Did ok, found the spot I made art at, I believe, back in '90. Long exposures again, till dark. Stopped at the Greenwell Farm first, as Valerie reminded me her old boss' family, Rob Greenwell, was from here. Did some research and it was only ½ mile from the hotel. The 4th generation Greenwell, and Rob's uncle, Tom, was in Oregon getting eye surgery, according to a helper. The tour lasted a half hour and was very informative. Had some sample coffees too.
Then headed south, wanting to work there, and stopped about 8 miles south of Capt. Cook, after getting a burger at a spot I found on Yelp, and worked a real nice area, Honaunau Historic Park, which was officially closed due to Dengue Fever spraying but I went there anyways and so had a dozen other folks, all locals. I worked it for quite some time, waves were major showcases, off in the distance as well as close up, all looking south.
Had to put up with an older drunk and a young guy bragging about fights as I worked, as picnic tables under the awnings worked well for me, shade wise.
Afterward I continued to South Point, and hour and 10 minutes further down the road. Stopped at a market and got coffee about 2 miles from the turnoff. 12 miles from the main hwy is the point, and I drove a few hundred yards down to the beach, most folks never left the asphalt and walked quite a way. Red dust all over the car, especially where I thought I'd cleaned the glue off the doors earlier (gas from a gas station next to the post office I used to mail Valerie a Valentines day card- again) that were left from the tape that held them closed during shipping I guess.
Stopped for gas and a sandwich back at the market. Got back in short order, relatively speaking, not much traffic down south.
Sat, Feb. 13th
8:50 p.m.
Been in the room for about a half hour. Had a good day today, as usual. Got to bed about 11:30 after watching half a Netflix movie. Slept well and awoke at 7, but snoozed till 8. Copied my SD card, number 2, to the computer and then to the backup external hard drive. Had 950+ files, one of Raw and one small JPG, so about 450 photos. I'm getting about 10 to 50 per scene, as most are seascapes and a wave exploding here and one there makes a big difference. I'll vote on them later, and yet I delete 25 to 50% of them on site, while waiting for another set, etc..
After shower and Internet I got to the hotel dining room and got my $7 breakfast, same as yesterday. Enjoyed my eggs, toast, crispy bacon, pineapple juice and unlimited coffee, T.U.L, was really good. Found I'd forgot to re-charge one of my three camera batteries so I plugged it in. Headed to Holualoa and gallery hopped to the ones that were closed two days earlier. Then worked the coffee plantation run, and owned, by the Japanese- Mauka Meadows, on suggestion of one of the gallery owners. What a special place, so well maintained. Nice path going down from the parking lot, thru gazebos and fruit trees and gardens, to the tasting pavilion next to the infinity reflection pool. Learned they cater to 60% Japanese visitors. Relaxed, had coffee, and worked the pool. Wish I had soft light, not to be all morning and afternoon. Just sun. Afterwards went back to room and got re-charged battery. Replaced it with another dead one, and was off after rinsing red dirt off car from yesterdays work on South Island, so much red dirt blowing and being stirred up by my own car in 20 mph winds, was almost impossible to see if driving with the winds.
So after grabbing lunch at 2.30 from McDonalds about two miles north of the hotel, I made my way further north taking the beach route. I saw some killer waves near shore, backlit, so I parked and walked around some 'holy grounds' there to stand on volcanic rock, and worked them for about an hour. Got some real winners, putting my new long lens to the test, with the new polarizer. Wows and more wows, with a lot of deletes. The backlighting made the waves come alive, and I used a high ISO and fast shutter speed to freeze the water, not my usual style at all.
Then I was off towards the airport, where I was going go work, but first stopped at Wal-Mart so I could buy a new mini hair clipper, for trimming my beard. The one I had for decades blew up on my last trip to Italy. Found one, and also two more 32 GB Sandisk SD cards.

I also talked to Valerie, wisher her a happy weekend, as she'd just got off and has the weekend, plus Monday holiday, off. She's doing well. She will ring up some monies owed us tomorrow.
After stopping once more, this time at Costco to fill up the gas, I headed to that spot CJ told me about, a lava tube that spouts water. He had cool shots of it and gave up the location when I complimented him on it. Asked some Hawaiians if they knew of it, as I had about a ½ mile of beach to cover if I walked. They directed me to an area I would have never found, as it was through a lot of state fenced off area for water treatment.
I arrived about 5:30, just in time to start working it. I worked it and got less nervous about getting the camera wet once I'd been there a half hour of so. It was a bit dangerous, for the camera, as the tube would spout water up about 10' high, and I was only 20' away, to the side, and was a bit down wind at first, which was bad for the spray on the camera. Was so blessed with the results.
Afterwards I worked two more compositions nearby, the waves were strong and giving me ample ammo to work with, and combined with 10 and 15 second exposures, at 6,400 ISO, the limit, I was able to shoot in just about zero light. Stopped again at Costco on way home, this time for a sandwich, and got back here, as stated, about 8.15. Charging one of the batteries right away this time, as the other was done hours ago. It's now 9:45, so this took about an hour. Sometimes I go online to get the spelling of a place, and then check the news, and the emails, so it's always takes a bit of time to do. Will finish that movie, it's pretty good 'The One I Love'. Kind of like a Twilight Zone at this point, and I loved that program.
Feb. 17th Wed.
Now in Kapaa
First, some catching up to do.
Saturday night, the 13th, I called Robert to see where a good church to attend was, he was not going to his and recommended the one the beach I'd seen, the Living Stones Church. So Sunday, the 18th, I went to the 10.30 am service, it was in an air conditioned building, with overflow tent right on the beach. Lots of parking across the street. Got prayer for health, creating and fellowship. The, with soft light, went to Holualoa and worked the Holualoa Inn. An employee, Catherine, had invited me down to see the black bamboo, she'd seen me working the large bamboo stalks at the entrance to their place days earlier. A gentleman showed me around and I said I'd like to shoot a scene, and he let me, then I worked the outside area shooting plants and flowers. Got two ok images. Then worked the town, an art gallery with greens and yellows, matching the plants all around it. That took an hour, and by the time I got to Mauka Meadows coffee plantation I did not have much time to go down and re-shoot the reflecting pools, like 5 minutes. Accomplished that.
Monday I found out the hotel did not have an open dining room, so I went to McDonalds for breakfast. It was my last day on this island, and I went back through Holualoa town, nada. This time through the back area too. Many businesses were closed, Presidents Day.
Drove down and chatted with Robert Thomas, and he was nice enough to treat me to lunch, kind of a thanks for helping make that sale he said, cool. We chatted and he told me of a cool place to shoot by the Kings Mall I'd visited days earlier, and showed me shots of a palm tree rowed beach with a fish pond on the other side. It was nice and cloudy that day, with strong offshore winds to 30mph, making the large waves a mile away on the opposite point awesome, but they were too far away to capture properly I got a good shot of the trees backlit with steaming light, and also some closeups of waves with those background ones backlit too. Worked till dark again, about 7 p.m..
Stopped at Costco for a bit, then to the hotel. Got to bed a bit early, would have to get going early, plane left for Kauai, stopping at Maui first on Hawaiian air.
So yesterday, Tuesday the 16th, was a transition day. I still had no place to stay, the YMCA did not return calls about Waimea campgrounds. I got up at 7 am and packed, checked out and off to McDonalds for breakfast. The hwy was packed, and afterwards I realized I'd forgot to leave the key. Started back but that direction was slow too, so decided to mail the key so I'd not miss the plane. Stopped and dropped off half a case of water and fruits for Robert to take to the church later, as I'd missed the exit and ran out of time. It was 9, and the post office now open, so mailed the key and called the hotel about it. Topped of the gas at Costco and returned the car, making it to the airport at 9:30 for my 10:30 departure. TSA did not allow me to take the waters on, like the other airline, which had no TSA checking, so I had to back through as I was not going to dump my 6 oz of mosquito repellant to, dumping out ½ to make it legal, and went back though TSA.
Flight on time, changed planed in Maui with 5 minutes to spare, and got off plane in Lihue in the rain. Called my car finding company after arriving and this time they got me a car for 6 days for only $140, cool. Now with Dollar, the last two were Enterprise. The compact car is a Mazda, and nit as nice at the Nissan Versa, smaller and less quality, but ok with AC and radio.
Also, still had no place to stay but had called a Chris at Coral Reef in Kapaa and he'd said to call back and he might refer me to a place. On calling, he said he had a proposition, to help paint an apartment in trade for staying there. Two rooms and two coats. Said I'd come by to look. It's on the property and we worked out a deal, and I met his wife Karen, nice couple from Chicago that are now co-owners, of '31 days' w/ the previous owner. We hit it off well. The room has been taped, and I said I'd do in later in the week as the fumes could be bad to sleep with.
So after checking in I grabbed a sandwich ($10) from the place next door and drove to Hanalei. Raining a bit and was excited to be back here. Hanalei was raining, so so waves and dreary, nada. But while driving along the beach found a nice scene in a wind protected spot and shot it. Nice. Drove to the Napali coast and large offshore waves gave me an hour to shooting, such dynamic looks to the waves. Missed the best shot with streaming light as it closed before I could compose. But got lost of great shots with some nicely lit clouds sometimes. Shot till dark and came back to the room, stopping at a market for some red wine first.
Got back to the room about 8.30, and got key from Chris after chatting for 15 minutes while he and wife folded laundry at the laundry room. Came back to room, much improved after they fixed it up for me to stay, bringing in coffee maker, clean linen, etc.. A couple that had worked/lived here for the past year were just let got by them, thus necessitating the painting- they were smokers.
Also, been blessed with someone purchasing my Hassy digital back on eBay, the problem is I'm not around to ship, and he does not want to pay direct cc to us, but PayPal, which we don't usually accept. Much prayer and communication and we have worked it out, T.U.L. Valerie will ship it, and I'll call and get his cc number. He now trusts me since we spoke n the phone. Yeah, you don't want to just had over $4,200 to someone without a bit of trust. He saw I was legit from searches, and just needed my voice to help assure him. Now it's 9:50, lots of catching up has been done. Slept well on my king size bed, hitting the sack at midnight, and up at 8 a.m., then having my coffee. Time to shower, then eat and create.
2.17 Con't. 11:20 pm
Ok, had a great day shooting. Started off cloudy, and remained that way, and went to rain in the afternoon, on and off, and on at night. First stopped at Kountry Kitchen across the street from the hotel (Karen said it gets rave reviews, she did not like the omelet and has not been back) and I had eggs, 6 bacons, large toast and hasheys for $9, plus $3 for coffee. Was perfect, even though high priced for the mainland, low priced for here!
Drove back to the north, but did not get far as ran across some great waves breaking near shore. Shot those for about an hour, ending with background shots of Kapaa. Continued on and stopped at Jurassic Park Ranch. Shot that for about a half hours or so, waiting for light to help. Next stop was Foodland up in Princeville, for overpriced bottled water. Then continued toward Hanalei and noticed the overlook of the bay was stunning. No parking signs are now posted, drove down a bit and hiked back and captured it. Then I grabbed another $4 burger at a hole in the wall (at the Hanalei mall - I had one yesterday evening here too). Then found a spot to work across from the mall. It was a side lit forest covered mountain, with bigger, darker mountains behind it, and waterfalls behind that, and taro fields in the foreground. Rain made me retreat to the car for a moment but noticed it made the scene even nicer when I shot the rainy scene with iPhone out the car window, so jumped out and put the umbrella to use, scoring a real winner. T.U.L.
Continued down and stopped at Lumahai, capturing some ironwood trees at first, then the shoreline looking back towards Hanalei, then the ironwood trees on the water, then the exploding waves on the rocky point, then the ironwood forest again, different composition. Drove back and worked the Bay overlook, with hardly any light but very dramatic, all silvers for last moments of light, and heavy dramatic clouds. Got back to town about 8 after having a real hard time driving back, rain so heavy at times I could not see the road- very dangerous. It reminded me of the same thing, although daytime, back in '88 when about 7" fell in 15 minutes.
Went past hotel, headed to Costco for dinner in Lihue, but saw the Burger King in town here and opted to save 40 minutes round trip and get a burger there. Got back to hotel, chatted with Chris the owner for 10 minutes, and came up and called Valerie. She will ship the Hassy back on Friday morning. She found all the items, which I'd bagged before leaving. Watched an ok Netflix movie and caught up on Drudge Report news, now ready for bed. Need to weed through all the photos and delete some of the less interesting ones, it's easier to see in the room, daylight makes this tough, plus I don't have the time while shooting a lot of times.
Friday, Feb. 18th, 8:20 p.m..
Well, things were hectic today, but all worked out. First off I had to call the guy from India in N.Y. and get his cc number for the Leaf Aptus Digital back sale. Did that, handled his questions, and got two calls back to confirm stuff. Then read messages from Valerie, her iPhone 4s was not charging, again, and was at wits end about it. Showered and breakfasted at the same restaurant, but the cook would not cook my hashies well done, so the waitress credited me for those.
I'd wanted to try some freshwater fishing soon, and did some more research online after breakfast, and made calls to local tackle stores, then headed to Walmart and got a one week tourist license for $10. Went to and went to a place a local told me about. Then tried to find some rivers to fish, and the first, Wailua, did not pan out. Went back towards Kapaa, there was a big river by the hotel. Before I got there the artist at our gallery, Laura Crawford, called and said she could ring up the $4,200 sale, and did- it went through. T.U.L. We also rang up a deposit for a new student sign up for my March Carmel class.
In between all this I was on a quest to handle the phone situation, and called around and found a used one at a phone repair shop in Encinitas that I'd done business with. They refused to take my cc over the phone for one, so I called iSquad and they would, plus I save $50 on it- cool. Had my buddy Chris Castle pick it up for me, as it was right next to Keno's where he hangs out, and take it to our house in Del Mar. She was to take it to AT&T after work and switch sim cards, all should be well. He also picked up a priority mail box for the back Valerie was shipping out tomorrow.
I talked to a guy renting kayaks off the hwy and he told me a reservoir was nearby, and had bass, and I found it on the map. Did not want to leave camera gear in car there so went to the hotel and unloaded, but first I had to eat, starting to starve, and found a nice Korean BBQ place that had an affordable meal (at $9 lowest price) for some dumplings and kimchi and mac and potatoes salad, yum. Then went back, it was up from Wailua Falls by about 6 miles. Found it by 3 p.m., and the lake was absolutely stunning. Looked real fishy too.
It also had tilapia and peacock bass, with a limit posted saying only two of each, I was not going to keep any, so it did not matter. This is the slowest month supposedly for bass fishing, but what the heck. Nothing hit the topwater Gunfish lure, which I worked along the dam, until about ½ way across, and got two hits. Then it started raining, and then the phone rang, the local guys at the AT&T store would not change the sim card for Valerie, as she was not 'officially' on the record for the business account it was under!? The guys said I'd have to call the business number and add her. So he texted me the number, and I called and it was closed. WHAT A HASSEL. But I persisted as she needed this done, and reached after-hours 'tech support' and the lady was nice enough to do a three way call with the guys at AT&T store and got it handled. Valerie is a happy camper.
So I made it to the end of the dam and switched to plastic lures, nada. Then the gunfish again, and then the small buzzbait. Good move, I got a dink, then a nice 1.5 pounder that got off at my feet a few minutes later! Cool. It rained on me a few more times, but you dry out fast I realized and did not get out the small umbrella like I had earlier. Fished till dark, about 7, and then Valerie called: her photos were not transferred. Told her I'd handle that on my return. Man. (Just got a text, she has her 'contacts' still, T.U.L!)
I then went to Costco, about 15 minutes away, for a sandwich and mocha freeze. I got back a half hour later and started writing this update. What a day. Time to enjoy a small glass of red wine. Maybe Netflix.
Sat. Feb. 20th.
Well, up at 8 and had doughnuts and granola and yogurt from the hotel yesterday morning for breakfast. Was going to go to 'Family Rest.' Asian place but noticed the food out here. It's been complimentary every day, just forgot. Plus, I usually like regular breakfasts.
Headed to Hanalei and worked Kilauea Lighthouse first. Great storm clouds and light. Then backtracked to a bridge I'd noticed with great possibilities and slipped on the thing on my butt. The road was moss covered and I had flip flops on with bare tread, not that other shoes might have helped. I was blessed, the camera hit, heard it clunk, but upon checking the polarizer was muddy, as was some of the camera, but in good working order. Made the shots and decided to go back to the motel and get clean clothes. My shorts, first time wearing them in days, and the bottom of my long sleeve shirt, not tucked in, was wet/muddy.
After that I went west bound, and worked in Koloa town, then Hanapepe, then Waimea. Went back to Hanapepe and toured the galleries, it was 5ish, and they had Friday night art walk with 16 galleries advertised. But I went back and got great sunset shots at Waimea pier, after trying for an hour to get some bass in the river there in Hanapepe. The reel was only working halfway, and bit the dirt at the end. Tossed it.
Great sunset at the pier, and then shot long exposures under it after the sun went down. Then went and gallery hopped for half an hour. One guy had a nice photo gallery, exceptional work, name was Lee something.
Got back to hotel at 8.30 and talked with Chris and Karen about the painting job, and got the rollers and paint. Then I did laundry here, and put the clothes out to dry on the large couch in the room. Oh, my photo jacket leaked an orange juice I got from the airlines but forgot to drink and it fizzed out getting it wet, as well as the couch, yesterday morning. I washed it off with water, sat on it with the towels, and prayed it'd be ok. I was as I got back last night and all was perfect.
Slept well and tossed and turned till 8.50, then went to have breakfast at Island Palm Bar and Grill, about 5 minutes south of here. It was really a nice place, and I chatted with the owner, born in Laos or raised in Laos but was Chinese (?) and had the usual. It was cooked perfect and only $1 more than the place across the street, but 10 times nicer in feel and in service.
Was going to paint this morning, as Chris said it might take time to dry first coat, but I just read directions and it only needs one hour. The primer is Killz brand, usually very caustic and this places have no working windows to allow air in. I'll paint first coat tomorrow before church, and second coat after.
Off to Hanalei, TUL for this wonderful creating trip.
8.50 p.m. update.
Went off towards the north, via Kilauea, but never got past it. Heard about 'Secret Beach' twice, one by Chris here at the hotel, and one by the photographic artist last night at the Hanapepe gallery. So I looked it up and went, and I never left there as there was so much to shoot. First stopped off and worked the town there, mostly a little pond with lily pads and flowers, then a street that had nice homes and shot some bamboo at one. Found he right street finally and walked down the slippery and muddy path, about 15 minute hike. Soft light and some rain was the name of the game. The sun came out the last hour for awhile, and the last area I worked, to the left of the trail, above the rock point, was the most spectacular. Almost did not go check it out, I'd shot the area from there towards the lighthouse for hours, and thought most likely was done, boy was I wrong. Worked the last two or so hours shooting the dramatically moss colored volcanic boulders and the bay there. Some real winners.
Drove back to town and hit the Korean BBQ again, the place I had lunch the day before, same meal, same price. It's across from Brick Oven Pizza two miles or so south of the motel. Said hi to Chris and Karen, they were on speaker phone with their only child, a son that lives in Malibu.
Oh, I'd used the WalMart SD card, SanDisk, a 32GB one, one of two, that I'd bought before ordering the better kind that Amazon sent to Manago Hotel. Oh year, forgot to mention, asked them to mail to my home and put on cc, but the daughter says I have to fill out form ok'ing them to do so. All the laundry was plenty dry, put them all away. Looked up Calvary Chapel on Kauai, found out the Crosswoods is the new name, and I know where it's at. Service is at 9.30 a.m., only one. Plan on painting the green walls before heading over.
Sunday, Feb. 21st. 10 p.m.
Up at 7 a.m. to start the painting project. Want to finish the base coat on the green wall, two in the larger TV room and one in the bedroom. Got the two done and headed off to Crossroads. Pastor Bob, celebrating 20 years with ministry with his wife Becky this month, was on fire. Message was about everything being a Devine appointment. I told him about our men's ministry, the Band of Brothers, and he liked it. He knows our good friends David and Krista Lynch, who used to live here. Wonder if he knows the Carlins? Probably, will have to ask them. Got back and jumped right back into the project. The goal is to finish by 4, so I can go shoot sunset at Napali. Got the other Killz paint done then did a second coat of the first room. Called Chris up to show him how nice it was turning out. He mentioned that he thought I'd be doing the ceiling. I said no way, he did not mention that, only walls. He was a bit upset, but he'd not mentioned anything about it. I went about my business, finishing at 3:30, no lunch, really hustled. Was threatening rain when I left, and stopped in Hanalei and got two cheeseburgers at the little stall I eat at, and went to Napali. Stopped and worked a nice scene I'd done in '88, and then went to the end. Epic winds and backtracked to tunnels beach, great off shore winds over there with little wind on the hwy. Got blessed with a lot of nice waves shots. As I deleted a bunch after it got dark, knowing I'd need to, I noticed the moon was up. Got out and went back to work, capturing some awesome verticals with foreground trees. It was the spot some guy lost his new wife back in '88 just weeks earlier, some thought he pushed her.
A policeman pulled up and asked me to get on this side of the guardrail, I was close to the cliff, but I needed to be. I was done anyways, and thanked him for his service and showed him the last few shots.
Got back to hotel an hour later, and chatted with Chris and Karen. Chris seemed ok with everything, and was getting ready to BBQ some chicken on a new unit that was very professional (the owned a restaurant in Chicago for 15 years). I fixed up the rooms, putting electric plates back on, taking masking tape off the trim, putting the furniture all back, which I piled in the middle of the room, etc., then went out on the ocean side and sat and checked e mail and news.
Said goodnight to Chris and Karen, and Chris was more sociable after I told them I was going to comp them an image of their choice, unframed, worth $3K!.
Went and got some BBQ potato chips and a Blue Moon beer at the local ABC tourist store. Valerie called, said she went to the local church and was off to bed.