Basically, art value is determined by quite a few factors. Who's the artist? That's defined by: how long have they been making art; have they done anything in their medium that is unique; do they have a style and is there rarity to what they produce (as well as what's happening in the market they are in)?
So let's look at Michael Seewald.
How long have they been making art?
Michael was being taught how to paint by his mom as a child. He won his first competition in painting at the age of 13. He got a camera about the same time, and basically switched interests after a couple of years to that. He won his first national competition when he was just 19, and has since won many more national, and international competitions as well. Although he does not have as much time to paint as he'd like, he still does and he's still winning awards with them also.
Link to current paintings: http://www.seewald.com/michael_seewald_paintings_oils_and_acrylics.htm
Link to past award winners: http://www.seewald.com/Michael_Seewald_award_winning_art.htm
Has the artist done anything in their medium that is unique?

Michael developed a unique sponsorship program that has now financed over 60 world-wide creative trips. He now has hundreds of sponsors that have help him create thousands of images, many, if not most, limited editions. He is now selling images for as much as $9,000 for 40x50's, sight-unseen. This is more than most photographers can get for images already made and exhibiting!
More in sponsorships, history, pricing, testimonials: http://www.seewald.com/sponsorship_info.htm
Does the artist have a style?

During a college photography class Michael was given an assignment to 'make a dream series'. So he went out and did so, photographing his room mates girlfriend on a local pier at dusk, thus needing a long exposure due to lack of light. The effect it created intrigued him, and although first an accident, it soon became his style, slowly perfecting it over decades now. Folks walking though international competitions of hundreds of images state they know a Seewald at first glance without even seeing the name of the artist! That class was over 40 years ago. This strong style has also garnered him wins in many national and international competitions, and the attention of national fine art photographic magazines (see 'Finding his Niche', Photographers Forum Magazine, Nov. 1993 issue) Link here: http://www.seewald.com/Photographers_Forum_article_on_Michael_Seewald.htm
He's also run his own art galleries since 1983, not only showing his own art, but showing dozens of well known artists. Plus he's exhibited in other galleries all over the state, and has even had a museum exhibition in Kunming, China. Photos/article here: http://www.seewald.com/Michael_Seewald_2011_china_museum_exhibit.htm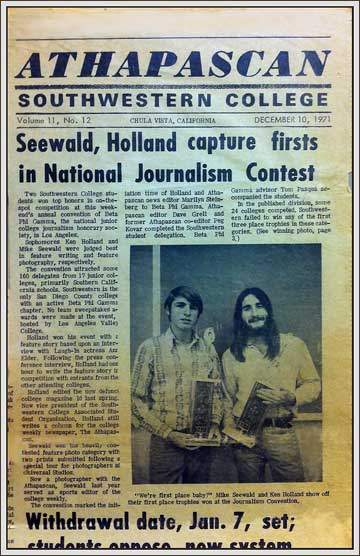 Click photo to enlarge.
1971 - Seewald's first year in college and he wins national collegiate photo competition.
Another determining factor, often overlooked, is what the market looks like.

There are now many limited edition photos that are re-selling at auctions for between one and $4.5 million dollars! This by artists maybe not even as serious as Michael: he first traveled with so little money he'd couldn't afford motels, even youth hostels, and slept in abandoned building, under bridges, in bushes in parks, etc., basically becoming a homeless person! But did so happily as he got to create his new award winning art in such wonderful places. Nor are some of these other artists as prolific, as Michael has spent half a decade on the road now. And some of the art would pale in comparison to some of Michael's work in interest and intrigue (according to gallery visitors seeing the other art that's fetched those high prices.
Here is a link to current auction action: http://www.seewald.com/Michael_Seewald_collector_info.htm
Bottom Line...
So when would be a good time to invest in a Michael Seewald piece of art?
Well, you guessed it, sooner rather than later, the prices do not get lowered, only raised. Some have gone from $600 opening night price, to $100,000, going to $500,000 after the next sale. Why, see above info all over again!
______________________________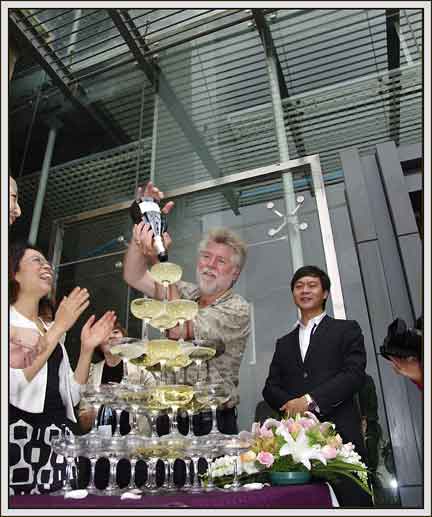 Click photo to enlarge.
Here, Echo, a gallery owner in Kunming that represents Michael, applauds as he gives the finishing touches of emptying the last drop of his champagne bottle onto the collection of glasses.
Michael Seewald's photographic exhibition at the Yuan Xiaocen Art Museum in Kunming, China. May of 2011.
Entitled 'Life Elsewhere', it showcased some 50 pieces of his art.
Photos/article here: http://www.seewald.com/Michael_Seewald_2011_china_museum_exhibit.htm